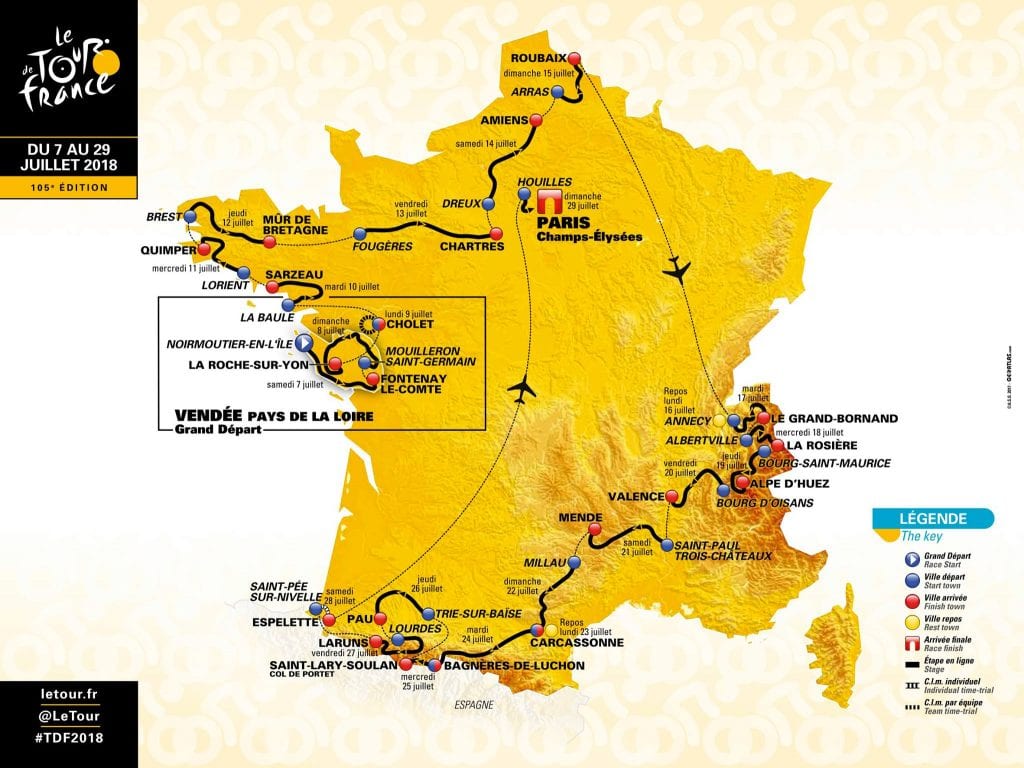 This was the first time I have ever watched the announcement of the Tour De France, believe it or not.
It's strange to think that a race that captivated my life for 17 years, I never felt any obligation or much interest in finding out exactly where we were going.
Because at the end of the day, it didn't really matter. It all hurts!
Watching the race being unveiled tonight was a lot more exciting than what I thought. I guess its because I now understand how hard it actually is to complete any Grand Tour.
Before, I was super fit. Now I am not fit, I respect it so much more.
Grand Depart
The Grand Depart in the North West of France will see an extremely nervous peloton roll off the start line on the 7th of July.
The weather in this part of the World changes in a heart beat and we could see nice sunny skies change quickly into howling winds & rain.
The undulating coastline could already play a pivotal part in the outcome for a few riders.
Nerves, Team orders, pressure, weather conditions, spectators, stress, all the ingredients for a chaotic few days of Le Tour.
Just what the organisers planned for…
A TTT just 3 days into the TDF will show the effect of the new 8 rider limit for teams instead of the original 9 that has been for so many years. Will it make much difference? I don't think so.
Will it make it harder to control the Tour. I don't think so.
Will it make it safer? I honestly don't think so.
It's like taking 5000 spectators off Alp D'Huez.
It will always be chaotic. It will always be dangerous.
Going from 198 to 176 riders will only change the amount of rooms each team needs in a Hotel.
Let me add this straight away.
The French are doing everything they can to "get" a French winner. The French need a Frenchman to Win their home tour. So the TTT is very short. There is very little ITT and the stages suit the likes of Bardet, Barguil & Pinot. I really hope one of them does win soon.
But when the organisers throw in a mini Paris-Roubaix in, well that's really throwing the cat amongst the pigeons. Magnify stress & chaos by 10. 15 sections of pavé over 154 kms… I think awesome. A select few will be thinking the same.
For the teams & mechanics especially, this is a nightmare. More than one rider will lose their TDF hopes on this one stage.
The Alps
It kicks off with 3 mountainous stages, tough days to conquer after such a nerve wrecking start.
Think about it, its been Game on since the first stage and the peloton finally hit the first mountains after 10 days. The freshness has gone. The body will already be hurting big time. A quarter of the bunch will have bandages somewhere.
And now the "real" tour just begins.
Pyrenees
Then the final fight over the Pyrenees. I cant remember seeing a TDF so tough. Day in and day out.
Stage 17 is 65kms! Yes you read that right. It seemed only a few years ago the ITT was 65kms, now the guys will be facing one of the most incredible stages in Tour De France history. 2 hours of maximum pain & suffering. Everyone will be scared of this stage. No one has ever seen anything like this since they were in the Juniors. The sprinters will be really worried about the time delay, the GC guys will know that anything can happen.
Do not miss this!
Then we have the Tourmalet & Aubisque in one leg snapping stage which is the start of 4 days of torture in the mountains.
Finally a 31 km undulating ITT to put the cherry on the cake.
If you've made it Paris, Congratulations boys…
You all deserve a massive pat on the back.
#vivreletour
---
2018 Tour de France Stages
Stage 1, July 7: Noirmoutier-en-l'Ile – Fontenay-le-Comte, 189km
Stage 2, July 8: Mouilleron-Saint-Germain – La Roche-sur-Yon, 183km
Stage 3, July 9: Cholet – Cholet (TTT), 35km
Stage 4, July 10: La Baule – Sarzeau, 192km
Stage 5, July 11: Lorient – Quimper, 203km
Stage 6, July 12: Brest – Mûr de Bretagne Guerlédan, 181km
Stage 7, July 13: Fougères – Chartres, 231km
Stage 8, July 14: Dreux – Amiens Métropole, 181km
Stage 9, July 15: Arras Citadelle – Roubaix, 154km
Rest day, July 16: Annecy
Stage 10, July 17: Annecy – Le Grand Bornand, 159km
Stage 11, July 18: Albertville – La Rosière, 108km
Stage 12, July 19: Bourg-Saint-Maurice Les Arcs – Alpe d'Huez, 175km
Stage 13, July 20: Bourg d'Oisans – Valence, 169km
Stage 14, July 21: Saint-Paul-Trois-Châteaux – Mende, 187km
Stage 15, July 22: Millau – Carcassonne, 181km
Rest day, July 23: Carcassonne
Stage 16, July 24: Carcassonne – Bagnères-de-Luchon, 218km
Stage 17, July 25: Bagnères-de-Luchon – Saint-Lary-Soulan (Col de Portet), 65km
Stage 18, July 26: Trie-sur-Baïse – Pau, 172km
Stage 19, July 27: Lourdes – Laruns, 200km
Stage 20, July 28: Saint-Pée-sur-Nivelle – Espelette (ITT), 31km
Stage 21, July 29: Houilles – Paris Champs Elysées, 115km
---
Interested in joining myself and Mummu Cycling at the Tour de France? Head here to view our complete range of experiences!