If you ever get the opportunity to ride the famed mountains of the Tour de France, you will want to be in a condition that enables you to enjoy the climbs. Training for hills can sometimes be difficult, especially for those of us who don't live near any big climbs. And while at the end of the day there's no avoiding climbing hills to get good at climbing hills, there are some things you can do on the flat that can make a difference. In a recent interview with Olympian and Ridewiser cycling training advisor Rob Crowe, we got to talking about this very topic.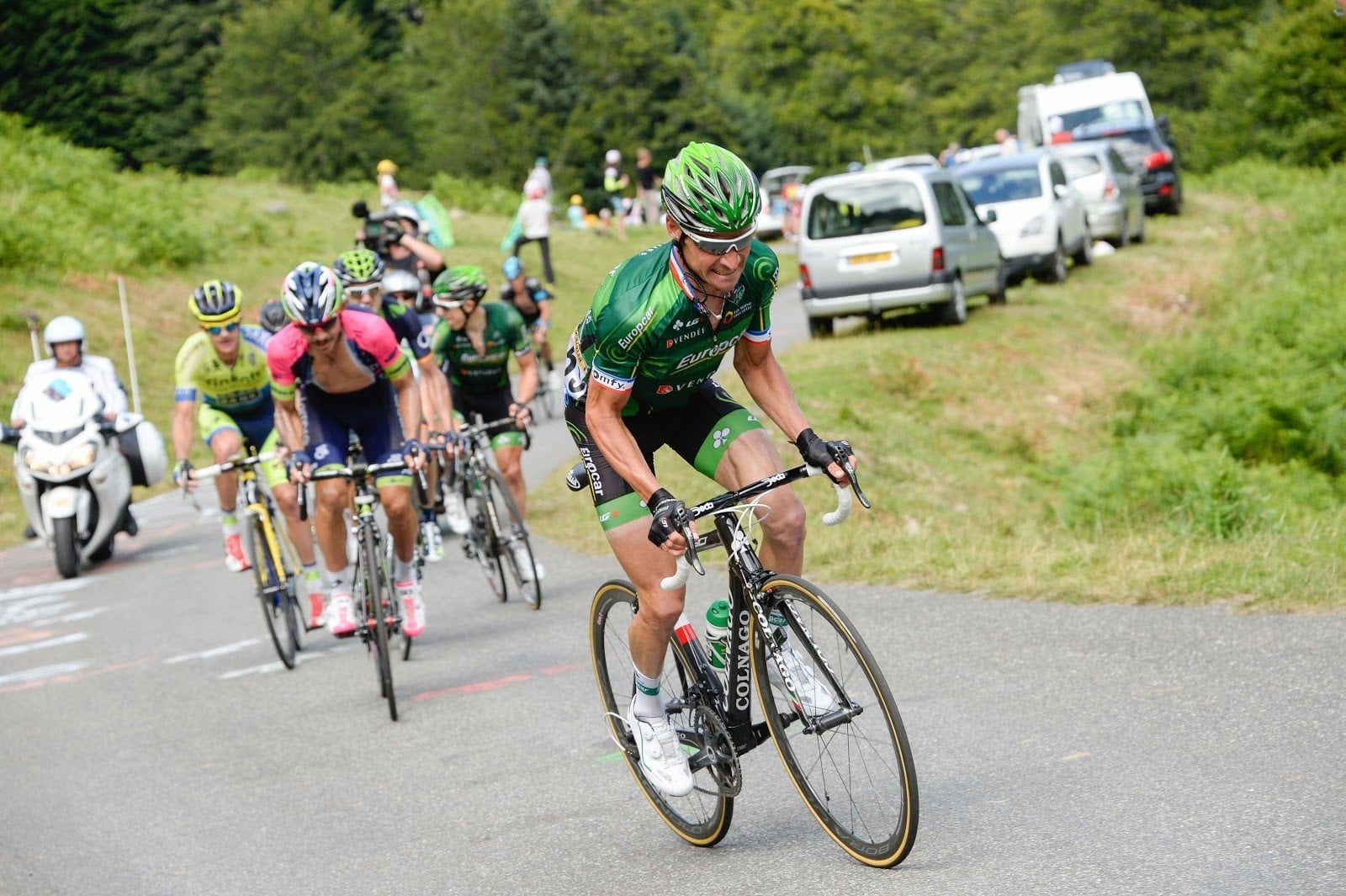 Thomas Voeckler climbs during the 2014 Tour de France. Michael Rogers, in the fluoro colours of Tinkoff, would go on to win the stage to Bagnères-de-Luchon. Photo: ASO
There are various approaches bandied about on how to train for hills without riding up hills. One recommendation is to ride on a trainer with your front wheel chocked up. While this will, to some extent, simulate the position of climbing, it won't exactly simulate the muscle strain of climbing. Another method once promoted was single-leg pedalling. This has since proven to be counter-productive as it puts your axis off centre, therefore promoting an unbalanced pedalling motion. It also overloads the working knee.
Rob Crowe mentions a session that Cadel Evans did during his big Tour years, which consisted of 4, 5 or 6 ascents of Kinglake, seated in 53/13. While this is not recommended for developing riders due to such high strain loads, for an elite level professional athlete training for the Tour, it ensured a low cadence and extensive strain on the muscles, particularly the glutes. Crowe is careful to point out that this is not a suggested session for most people. Evans was 20 years into his career at that point and had the training and strength to withstand the strain this put on his body.
But a variation of Evans' session can be useful. As Crowe says, "The closest simulation to climbing when you're not on a hill is to overload the gears." This is known as strength endurance training and ensures that all of the biggest climbing levers - glutes, lower back, shoulders, quadriceps and hamstring muscles are working hard. One method Crowe suggests is to ride, for example, three intervals of between 4 and 6 minutes in a hard gear such as 53/14 (53 being the number of teeth on a traditional large chainring) at lower cadences (70-80 rpm), so preferably into a headwind.
Crowe recommends doing this type of session on a flat road on which you can ride your interval without interruption (ie. no traffic lights), as it enables you to pedal at a constant cadence, like you would when climbing. He would choose the headwind direction and then do 3 repeats. The first interval will be "rough and difficult". The second, after a good recovery riding back with the tailwind, should be smoother as the muscles, lungs and joints will be mobilised. The third repeat should be hard but you should be able to maintain the same speed/power as the previous - the goal is to become more competent or comfortable under the same load. If you find this easy to achieve, you are ready to increase the load of the gears or the duration of the intervals. Conversely, if you struggle here, the session is too much and you should decrease the load and/or shorten the duration of the intervals.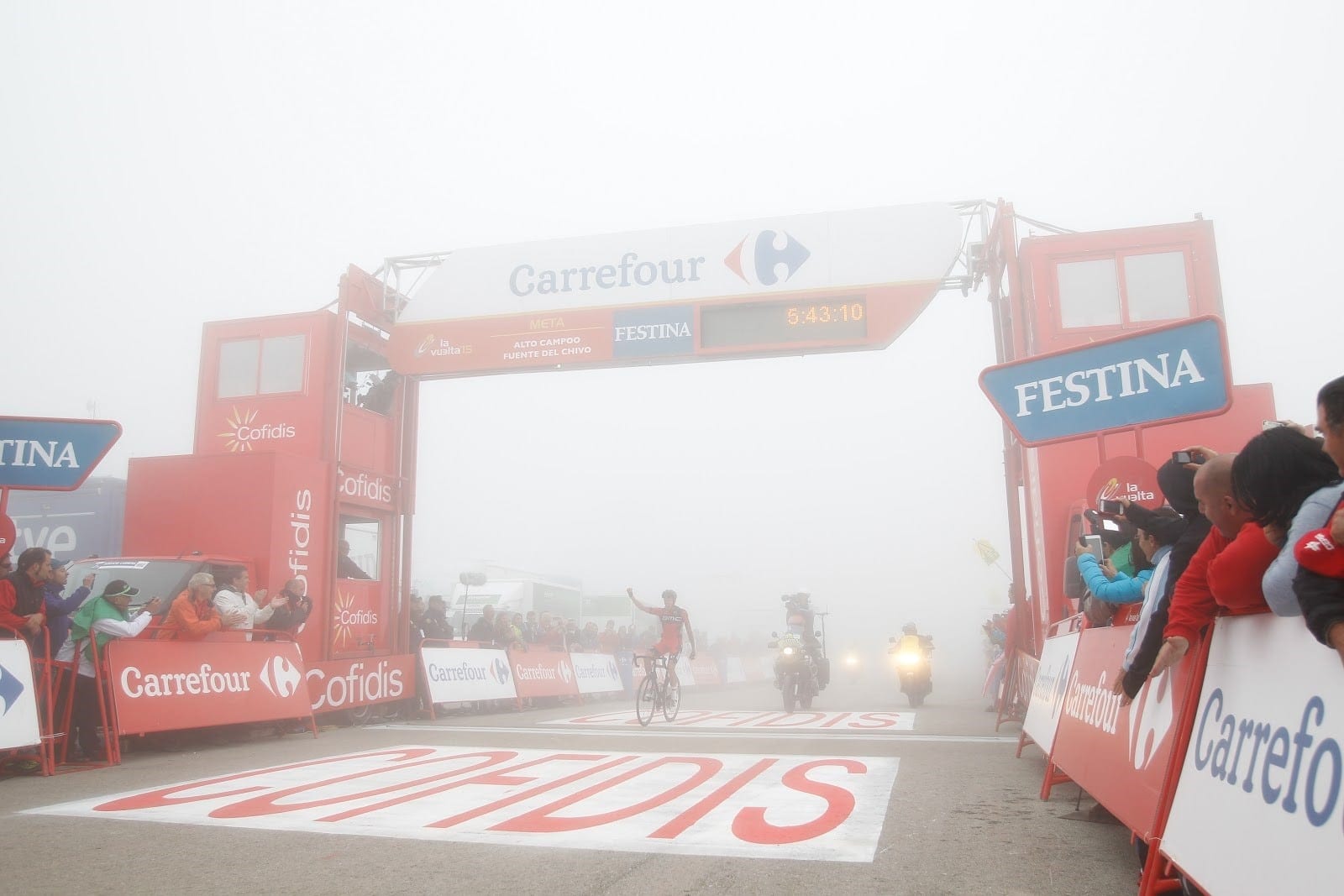 Alessandro De Marchi proved his climbing credentials during the 2015 Vuelta a España with a win at the murky summit-top finish of Fuente del Chivo. Photo: ASO
Another caveat: loading the gears is a 'strength' training drill. It doesn't constitute true climbing training. For that, you need the mixture of gravity against gear load and high heart rate plus high cadence, which is something that can't be achieved on the flat. The strength endurance training is important to prepare your muscles for climbing but it will only take you so far. There comes a point when you have to go to the hills. Crowe points to himself as an example here to highlight the difference. His Olympic coach once said to him, "Oh Robert, I see your best abilities as a time-trialler, not a road climber," to which Rob replied, "But I won the Tour of Austria over mountains every day." His coach responded, "Yes, you are very strong over the mountains, but you're not a pure climber , you're just very, very strong." At that time, Crowe didn't see the distinction between being strong and being a top level tour climber. While his strength enabled him to prosper in short tours and hard one-day title races with some of the best, when it came to the bigger tours and 20km climbs at a gradient of 10%, he would be left behind.
These days, Rob Crowe O.A.M. runs Ridewiser in Melbourne, where he uses his experience and motivational outlook to train cyclists of all ability levels using his own specially created Ridewiser Ergo machines and educational road-rides, among other methods.
To try these tips on the same roads as the pros, view our Tour de France, Giro d'Italia and Other tours here.