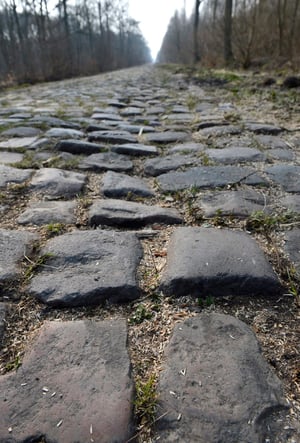 Classic Cobbles - they're the pointy, slippery, almost always uneven and sporadically placed stones that fill some of the most famous stretches, sectors and bergs of professional cycling.
The gnarly cobblestones never fail to put on a show throughout the Spring Classics, most commonly used as sections of the race to put the hammer down and light the race up. For spectators, it's a true delight to watch as the peloton battle it out across them - the leaders gliding over them, technique and style a master class.
For any newcomer, the cobbles can seem a little daunting when preparing to ride them for the first time. It's certainly no easy feat or click of the fingers and for anyone, takes practice and time to perfect.
When it comes to the cobbles, a little advice goes a long way, so here we've had a chat to pro New Zealand rider Sam Bewley of Mitchelton-SCOTT…
Sam has been professional since 2009 and a key member of the Mitchelton-SCOTT squad since 2012. He has a string of Olympic, Commonwealth and World championships medals to his bow from his successful period as one of New Zealand's best Track Teams Pursuit riders.
Since turning his full focus to the road, Sam has excelled in his role and has helped the now leading World Tour team to many victories, from one-day races to Grand Tours.
Sam is no stranger to the cobbles, having raced the monumental Spring Classics for many back-to-back seasons as a professional; from the iconic Ronde van Vlaanderen to Paris-Roubaix and beyond.
COBBLES FOR BEGINNERS BY SAM BEWLEY
#1- It is important to make sure that your bike is cobble ready as comfort on the cobbles is much harder to achieve than on the normal roads. Spend some time preparing your bike. The key things you're looking for is comfort through your hands/arms and through the bike in general. Start with adding an extra layer of bar tape to your handle bars. This can feel strange at first, but you won't regret it once you hit the cobbles. Secondly is your tyres and tyre pressure - ideally you want to use 28mm tyres, 25mm is the minimum. Play around with different tyre pressures or do some research. You want them softer than normal. For the cobble climbs of Flanders 6-7bar can be fine but for Roubaix you would be looking at anything from 4.8 - 6bar depending on the weight of the rider.
#2- Learn what you are riding. If you have a loop planned or are riding the Flanders or Roubaix Gran Fondo's, study what sections you will be riding. This will help you to understand what you are in for as the length and roughness of each section can vary quite a lot. This will help you prepare mentally for what is coming and help you to know when to save energy for those tougher sections.
#3- Once you get to the cobbles - look for the best line. There are often a few different places you can ride on any particular section and there is normally one or two lines that are better than the others. On the climbs of Flanders, you might find the edge of the road a nicer place to ride, whereas at Roubaix, you will usually find the centre of the road is best. As tempting as it can be to head for the dirt on the side of the sections, it is often the worst place to ride. There is a higher chance of punctures with the rocks and it can be dangerous over there with big holes and lips. It is always safer to stay in the middle even if you feel you are bouncing all over the place.
#4- Gear selection. It is too easy and almost natural to slip into riding a bigger gear and drop the cadence lower than you normally would. It is important to make sure you keep your cadence high and in your natural sweet spot. This may seem counter intuitive, but after a few sections you will appreciate the energy you have saved by avoiding grinding those bigger gears.
#5- Enjoy it! Riding the cobbles is a really cool and unique experience. For those die hard cycling fans some of your greatest memories of watching bike races will be from Flanders and Roubaix, so get out there and enjoy the experience. Pretend you're Tom Boonen, Fabian Cancellera or Mat Hayman and enjoy something very unique!
Interested in giving the cobbles a crack next Spring, while enjoying the best of World Tour cycling along the way at the Spring Classics?
Check out our trip line-up here and join us for the bumpy ride!