Here, we've come up with some common denominators that you'll no doubt experience while on a cycling tour in Italy, and in particular, at the spectacular Giro d'Italia!
INCREDIBLE CYCLING
The Dolomites -
Many would say, the Dolomites offer the most beautiful cycling playground across the globe. The Northeastern mountain range of Italy forms part of the Southern Limestone Alps and travels through to the River Adige in the West and the Piave Valley, East.
The Dolomites, are an absolute must-visit for adventurists, lovers of the outdoors and avid cyclists alike. Its surreal landscape is made up of a succession of peaks, all sporting unique 'jagged' edges, and surrounded by a combination of rolling valleys, gorges, endless green fields and forests.
Their sheer beauty offers the perfect contrast when cycling within, to the pain and suffering they will no doubt disperse! The many famous 'climbs' of the range are far from easy, yet an incredible challenge and absolutely worth it for the picturesque scenery and mind-blowing views atop.
Arguably, most famous to the Dolomites within the cycling world, is the iconic Sella Ronda loop, that tackles a selection of famous passes throughout its route, just shy of 70km in total, including; the 9.3km Gardena (6.4%), the 5.5km Sella (7.9%), the 13km Pordoi (6%) and the 5.8km Campolongo (6%). How's that for a day's climbing?
Another popular Dolomiti choice for cyclists, is the unforgiving Passo Fedaia. The 14km climb, offers little to no respite with its 7.6% average gradient, ramping up to a gruelling 18% along some sections. Again, worth every inkling of suffering, for the unsurpassed views on display at its summit. .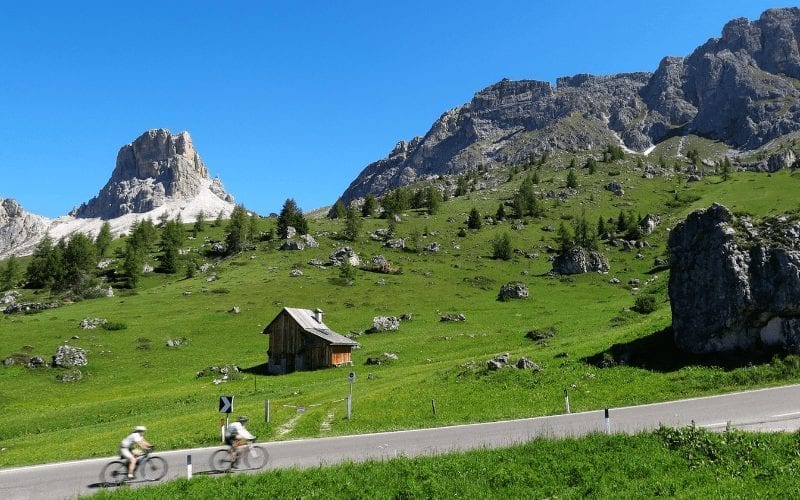 Stelvio territory -
Surely you've heard of the mighty Stelvio pass? An absolute icon world-wide, due to its incredibly unique 48 switchbacks and truly exquisite landscape. The 24 km climb (from Prato) reaches an incredible height of 2758m, assuring it the second highest paved road in the Alps. Averaging just over 7% for its duration, it's by no means an easy feat, however its famous hairpin bends, for many assist in offering a nice platform for a little respite here and there. Counting down from 48, with each turn clearly marked, it may seem a long way, however once you've covered its sheltered lower slopes, and entered the more exposed final stages, you'll be able to look up to see the summit and the unbelievable switchback slopes that lie ahead - a breathtaking experience, both visually and physically, as surely by now you'll be a little out of breath!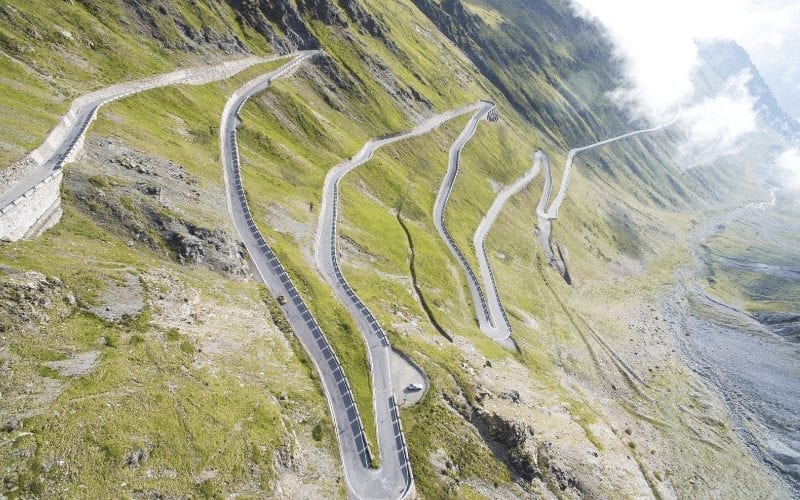 Not far from the Stelvio is the not-so friendly, Gavia. From Ponte di Legno, it's a challenging 17.3km long, averaging 7.9% and incredibly exposed for most of its final half. When the weather takes a turn, the Gavia is one to avoid! In this year's Giro d'Italia, the climb was removed from the Queen stage (16), with avalanches and extreme weather deeming it high-risk.
The murderous slopes of the Mortirolo also loom nearby and for some, it's referred to as the toughest climb across all three grand tours in professional cycling. From Mazzon, the climb averages a relentless 10.3% over 12.4km, reaching points of up to 18% along its course. Its continuous 'steepness' offers seldom opportunity to recover, making it a real battle in hell when not feeling 100%. Word of advice - come prepared and be committed to suffer - a lot! Although a challenge, the elation and sense of achievement at its summit certainly make up for the pain endured. A definite bucket list climb that 'not so' simply must be ticked…
Tuscany -
Now we're really talking 'bella Italia'. The famous region is commonly passed through along the Giro d'Italia route, showcasing its stunning, rolling, vineyard-dotted, olive grove lined roads, particularly famous for its Chianti wine. How does a day or two riding along picture-perfect undulating roads, rewarded superbly with a glass of Chianti under the Tuscan sun sound? Not bad, we say and something you'll almost certainly be in for on a Giro d'Italia cycling tour in Italy.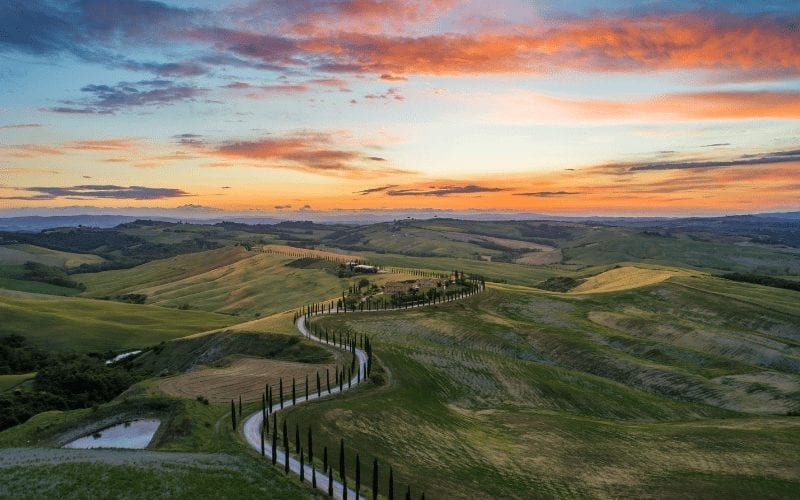 Carnic Alps -
They border Austria and are home to the relentless Monte Zoncolan, considered as difficult or even more so, than the Mortirolo and another one of cycling's toughest ascents encountered on the professional circuit. Averaging 11.5% over 10.5km, it's no wonder! The lethal climb has appeared six times at the Giro d'Italia, most recently in 2018 when Chris Froome stole the show and tore the legs off competitors on Stage 14. Here's hoping it'll be back in 2020.
Treviso/Monte Grappa -
Home to Italy's best prosecco, Treviso is a definite, yes when visiting Italy. The famous province's stunning surroundings are vineyard prominent, as the original area of the famous sparkling wine. Also known for the Italian favourite dessert of tiramisù - the perfect reward following the nearby testing Monte Grappa climb, popular within the cycling world and part of the Veneto region. The unique climb offers an incredible nine varying routes to its 1775m high summit. Famously known as a World War 1 battleground, featuring a memorial at its peak and outstanding panoramic views to add.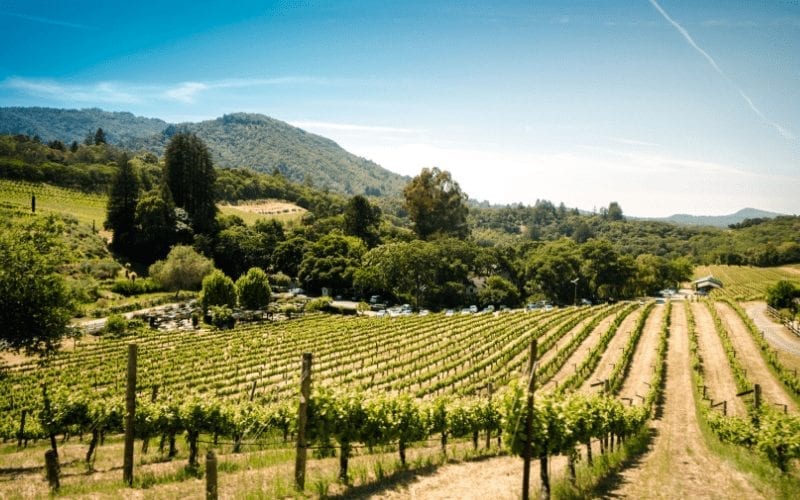 The Italian lakes -
Let's not forget the crystal clear waters of Italy's most spectacular lakes. Lake Garda and Lake Como to name a few, may ring a bell. Known for their idyllic settings, and both occasionally visited along the Giro d'Italia's route. Como, part of the Lombardy region was a popular stop-off point along this year's 2019 route with the Stage 15 finish along its shores. Home to the famous Madonna de Ghisallo climb and the tourist-favourite, charming lake-front town of Bellagio at its base - it's a place you'll be reluctantly leaving.
DIVINE FOOD AND WINE
If you've never experienced 'authentic' Italian cuisine, then you're certainly in for a treat. The Italian's certainly do food incredibly well, and are most famous for their to-die-for flawlessly cooked pasta of all shapes, sizes and flavours; gnocchi, spaghetti and carbonara to list a few...Then, there's their renowned, exemplary pizzas, crusted perfectly to ensure just the right amount of crunch and thinness to its base, with a selection of divine 'typical Italian' toppings. The combination simply cannot be replicated in other parts of the world, no matter how hard they try.
The list of traditional favourites then goes on, as they absolutely excel in many other areas. Prosciutto, polenta, risotto, are a few popular specialties, and of course, their sensational gelato and coffee to top. Simple, locally inspired, fresh and so delicious. To add - the outrageously inexpensive prices, and generous serving plates, make it all the more tasty.
To top outstanding cuisine, the Italians are known world-wide for their reputable selection of varying wines, from a number of popular regions. One of the first things you'll notice in most parts of Italy is the phenomenal landscape, vineyard prominent in many regions. Again, you'll be far from breaking the bank to treat yourself to a nice drop of Italian vino to pair with that pizza.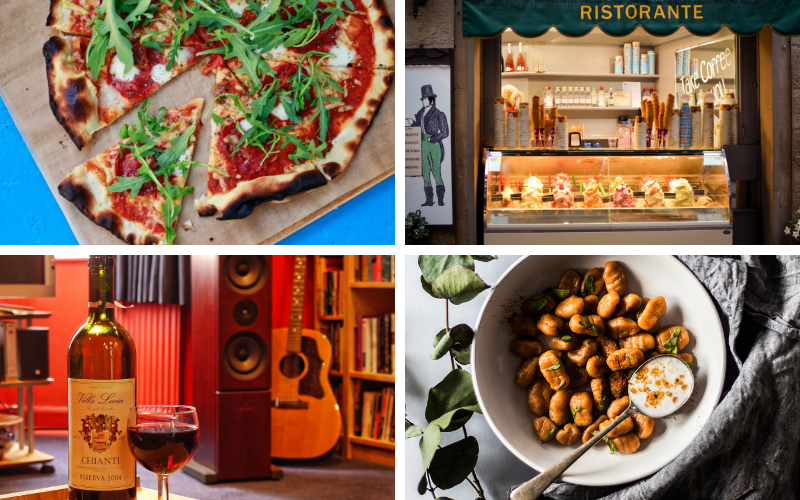 THE PEOPLE, CULTURE, HISTORY AND ART
Mama Mia! The Italian's are an incredibly lively, passionate culture and when at the Giro d'Italia, you'll absolutely experience their love for life and contagious energy when in amidst the atmosphere catching the action.
Steeped in the arts, architecture, music and food - they have it dialled. Something that really stands out, too is their 'family life' and significance of family in many aspects of life. An incredibly close, emotional culture and something you will undoubtedly witness in your travels through Italy.
Also, very rich in history...the entire country is prominently filled with ancient palaces, fortifications and archaeological parks; every city and small town holding it's own stories and unique look - packed into stunning old buildings and churches, through to the countless cobbled alleyways that lie between them, ensuring it a place to endlessly explore by bike, foot or boat!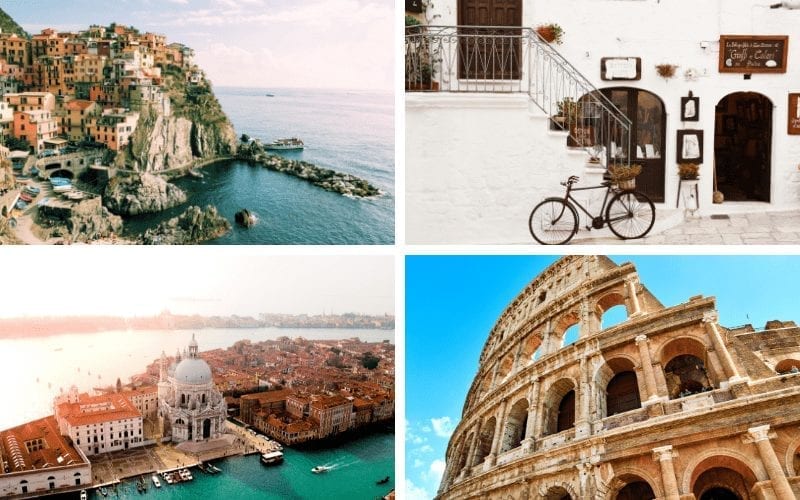 So many things to look forward to when travelling to Italy, (and this list could go on and on)...many of which you could well experience on a cycling tour in Italy, combined with the spectacular Giro d'Italia, depending on the Grand Tour's varying annual route. Following a disrupted 2020 season due to the unfortunate Covid-19 pandemic, we have postponed our Giro experience to 2021. Head here to pre-register for what will no doubt be an incredibly special edition next May.