Words by Baden Cooke and Stuart O'Grady.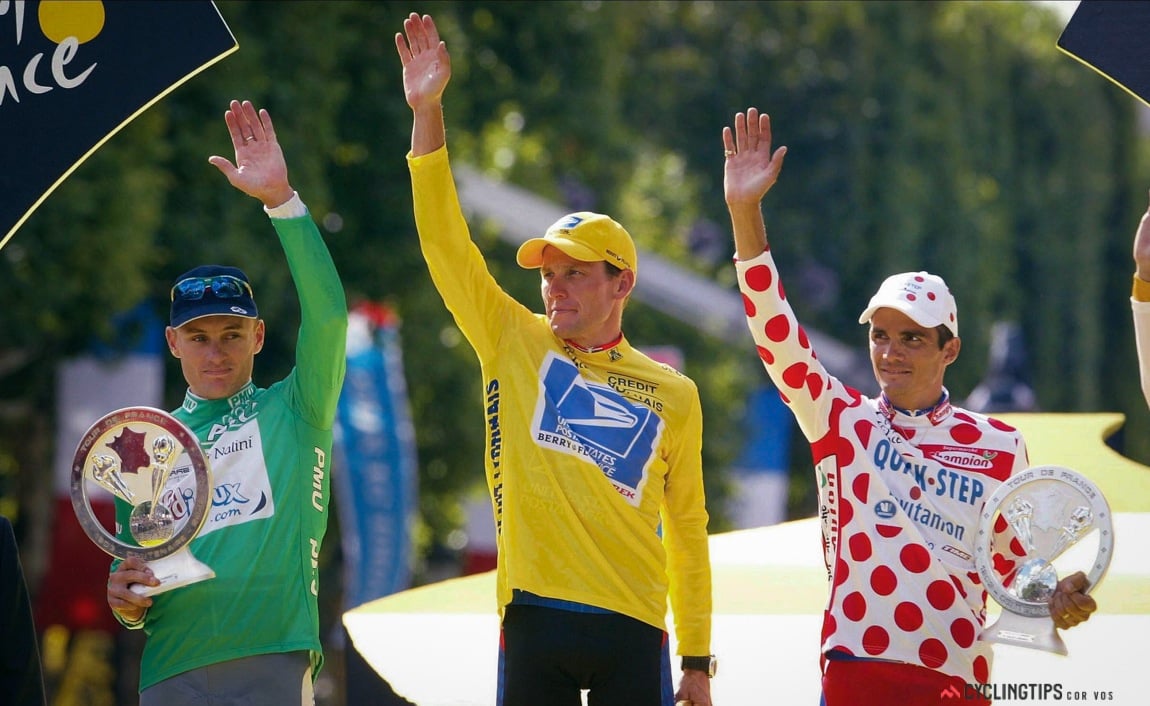 What are your predictions for this year's Tour de France GC podium?
BADEN:
Romain Bardet
Geraint Thomas
Vincenzo Nibali
Where are the biggest GC 'shake-up's likely to happen?
STUEY: I'm not sure it'll be a shake-up, but I do believe Richie Porte will be up the front of the classification going into the final week. A lot will depend on the weather as Richie really struggles in the wet conditions. All Aussies will be hoping for a dry & sunny TdF.
I also really like the look of the 3 pronged Movistar lineup - Quintana, Valverde and Landa together are really going to be exciting to watch.
I actually see Landa as a huge favourite for the Tour.
BADEN: The Roubaix stage and the 65km stage (Stage 9 and 17).
What about the Sprint classification and Peter Sagan? He's won it six times but there's certainly some other big names who will be out there battling for it, including last year's winner Michael Matthews. It would be great to see a tight fight for green like back in 2003!
BADEN: Sagan is untouchable if he avoids mishaps.
As a former King of the cobbles - you must be excited to see all the action on Stage 9 into Roubaix? Could it be a real game changer having such a technical, brutal stage so early on?
STUEY: I am really excited as a spectator to watch this stage unfold.
I do think its actually a little bit over the top from the organisers of the TdF.
A few favourites are going to lose their TdF dream at the end of this stage. Thats a fact.
I think having so may sections, 15 in total over the complete stage is just too much. The TdF shouldn't be decided on a stage like this, its too brutal.
It'll make awesome viewing though, lets just hope there aren't too many broken riders at the finish.
BADEN: I think someone like Geraint Thomas could take 10 min out of Nairo Quintana this day. At least 2 or 3 GC contenders will be put out of contention.
Favourite climb in this year's Tour?
STUEY: It has to be Alpe d'Huez. No other climb has the same romance, beauty & drama as the Alp. It is the ultimate climb for any cycling fan.
With around one million viewers road side, its pure passion & excitement over the 13km climb to the top.
And we will be there watching it - live!
Hardest stage prediction?
BADEN: The 65 km stage (Stage 17)
Best TDF memory (s) ?
STUEY: There's too many special memories for me over my 17 TdF's.
- Winning my first Yellow jersey in 1998
- Winning the TTT in the Yellow jersey in 2001
- Winning the Tour De France as Team captain in 2008
- Winning the TTT in my final TdF with an Australian team in 2013.
BADEN: Being on stage and on the podium on the Champs Élysées
As the most hyped about race of the season, the TdF atmosphere is pretty special. What is it like being on the other side of the fence amongst the crowds after so many years of being in the race itself?
STUEY: I absolutely love it. The TdF has been a part of my life for almost 20 years. It's a month of cycling's finest athletes battling it out. The strategy, the pain, the chaos of the Tour make it so special. Now to be on the other side of the fence, but still inside the action without the pain, is awesome.
I love it.
What are you most looking forward to at this year's TdF with Mummu Cycling?
BADEN: Riding up the mountains nice and slowly and telling war stories over a beer.
STUEY: Being in France in July! The world stops and takes notice of the Sport that I love. Everywhere you go, people are happy, smiling, riding their bikes or talking about bikes.
If you're a cycling fan, it's a month of happiness which see's you feeling a little flat when it's all over…
Vivre Le Tour
Learn more about out Tour de France experiences, here.