If you don't win or get a top 3 you can't even be up for qualification to go in the squad to go in the team to go in the Games…
These were the words bouncing around Rob Crowe's head as he set off on a 'suicidal' solo breakaway on the final stage of the 1991 Tour of Tasmania.
"I wanted it to be for the road race but I didn't realise at the time that I'd been earmarked for time-trialling", Rob recalls, "From testing at Charlie Walsh's SA institute they knew I'd be a good time trialler but you still had to do well in the races that they nominated around the country to get into the 2-year campaign they were setting up to build a team to go to the Olympics."
This was the first time the Australian Olympic cycling campaign had been planned so far in advance. In the past, "it had always been, last six months let's see who's going good and put them in".
On the day the above ultimatum was made, there was one stage to go, Hobart to Hobart, 140km, with an ascent and descent of Mount Wellington to tackle. It was raining and the team members were told that anyone without decent recent results needed to do well. "So I attacked at the gun, at the neutral zone finish…and everyone went, 'Oh, Crowey, you idiot…you can have that, solo, good luck'. And I just went nuts." His lead went from 15 to 5 minutes up Mount Wellington, at which point Jamie Kelly (Shane Kelly's brother) attacked and came to within 10 seconds – you can just seem him between the cars' headlights in the image below.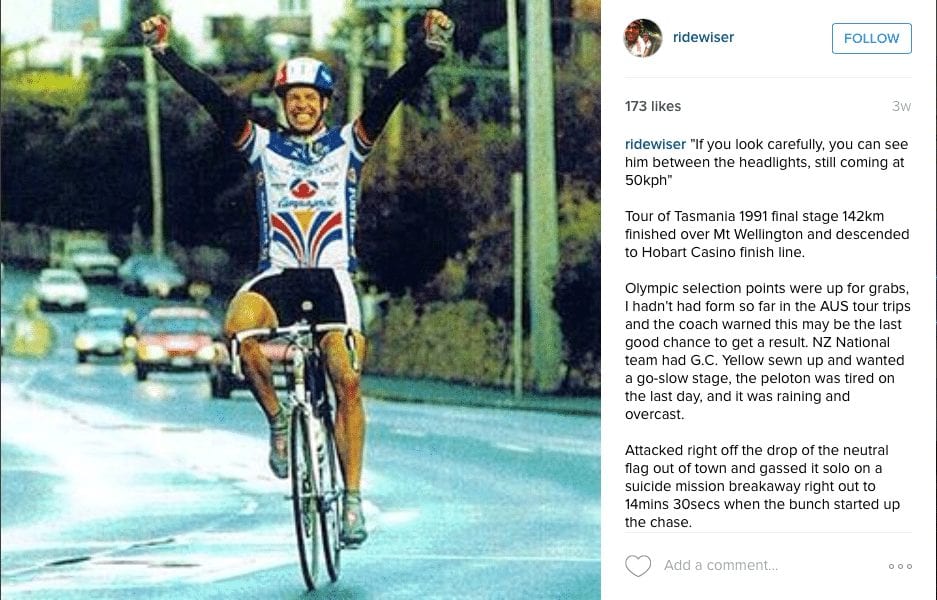 With the win, Crowe, along with Grant Rice, Darren Lawson and Rob McLachlan, made up the quartet that would race in the 102.8km team time trial at the Barcelona Olympics. It would be the last time that the event would be included at the Games.
LG: The time-trial must have been hell.
RC: Well, we were trained for it so it was just routine, but you're right, when I look back on it you think, oh my god, you're sitting on between 50 and 80km/h for two hours but the position on the bikes with the profile bars in that era…you're in a rolled-over position…your whole body's in a different biomechanical drive position, and the teardrop helmet and shaving your arms and legs, everything fits with the 50km/h an hour thing. But just being able to sustain your best threshold watts with a group of guys, who might be having a good day or a bad day, and we'd have to adjust, he might do 16-second turns instead of 20, so the rest is different to what you're used to…and you're finely tuned to the seconds, it's funny…because you're used to having this much time…
RC: Yeah, it's busy as…I try to remember the scenery of Barcelona…
LG: So, how did the race play out?
RC: Coming into the race we were seeded second in the world. We were so good. The new coach from East Germany [Heiko Salzwedel] had trained us to be the best we could be in this 2-year period. But we had a freak accident on the day of the event in the warm-up on the circuit…they used a road like the Sandown Raceway as their start/finish area and they sent you out on a road like the Eastern Freeway for 50km, do a u-turn and come back. So you were going onto a racecar circuit for the last 4km, very big and open and easy but fast, and in Barcelona they had quite big dips and rises and we were doing 80km/h coming down one of these big bends in the warm-up because you needed to know this technical bend in the course, because we'd be doing highway for two hours and then you come onto this track…and we were all sitting within 4cm, double disc, so the wind can move you 10cm if it catches you, but if he's overlapping just a bit you catch him…well it happened. We hadn't had a crash for 2 years, and we crashed in the warm-up and two of us went down, one of the brakes went through one of the disc wheels, which were all made of pig skin…two skin suits were wrecked, two guys had blood and skin…it was terrible…and this was the most true test of anything I'd ever been in…
The team time trial - note the bandages of the third and fourth riders
LG: And did you fall?
RC: I didn't. Grant Rice and I didn't fall. The other two, Darren Lawson and Rob McLachlan...they fell. What happened was, Darren took his hands off the profile bars to get ready for a turn, and Rob McLachlan was taking the bend but it looked like he was peeling off but he was actually banking to get ready to dive through…so this little quirky moment where he leant like this and Darren started to move through and at that time he took his hands of the bars, and just that moment, that second was wrong and they crashed. We luckily missed them. So they quickly changed the discs, put new skin suits on, because they give you two of everything at the Games (laughs), and we told each other we'd be unaffected, which is probably almost impossible, and we got into the event and we were seeded second, so we had this expectation.
RC: And then I had a flat…freak experience…in the event…
LG: So they had to sit up and wait for you?
RC: They were told to wait because I was the anchor rider of the four, which is the person who starts to load the turns in the last 20km. So when most teams were losing time, the focus of our training had been to get the team to lift for that quarter, and that was my job, to push 20-second turns out to 40 or 50-second turns. I'm a big heavy rider, you know, stronger and heavier.
LG: And then you'd sit up in the last 10km if you had nothing left?
RC: No, I was trained this way, so I'd be concentrating on the last 20, I'd be trying to just hide a little bit more for the first 80. And the puncture happened 60km in, and this was the rule for us, if the anchor guy punctures you wait, if it's someone else, you only need three to finish, go. And I actually thought, gee, we can't afford to lose 40 seconds, which you need to do the change, just go.
LG: And did they change bikes then or just wheels?
RC: No, it was a front wheel so they just ran up, it was all quick release, 10 or 12 seconds to change, but the time of slowing down was the problem. We had this drill where the front guy slows a little bit, the second guy slows a bit more, and the third guy some more, so they're all spread out, I then get onto him and he gets us onto them and off you go. And we lost 40 and we came 12th (laughing)…
LG: A disaster…
RC: (Still laughing) Yeah, a disaster.
The Australians finished a little over 7 minutes behind gold medalists, Germany. Italy and France came second and third respectively.
Rob says that despite the disappointment of the result, the team learnt essential skills for an elite athlete from the experience – skills such as managing situations with others under performance pressure and concentrating on being positive in the face of adversity. These lessons also developed some very useful personal skills for much more difficult experiences to come in sport and life.
Twelve years later, Rob would win Paralympic gold with blind countryman, Kieran Modra, in the 2004 Athens Tandem 4000m Pursuit.
These days, Rob Crowe O.A.M. runs Ridewiser in Melbourne, where he uses his experience and motivational outlook to train cyclists of all ability levels using his own specially created Ridewiser Ergo machines and educational road-rides, among other methods.
By Laurence Guttmann