When you're really fit, you rarely get a flat tyre because you're more lucid. I had a puncture once, in 1970, and then never again in 10 years. The other secret is confidence. I often started with the idea that I was going to win. I missed my chance once or twice but no more than that.
-Roger de Vlaeminck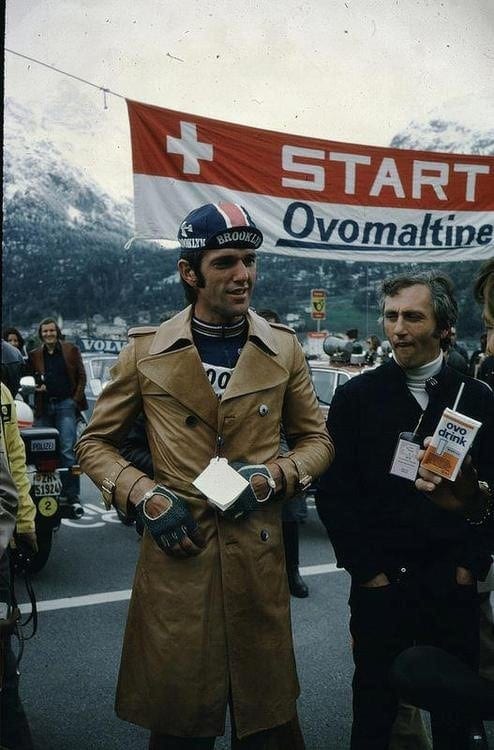 De Vlaeminck was stylish on and off the bike
As we approach the 114th edition of the Paris-Roubaix, much will be written about who will win the historic race that is known variously as the Queen of the Classics, l'Enfer du Nord and a Sunday in Hell. But it's important also to look back at what and who has made this race the extraordinary event that it is.
From 1969 to 1982, the name Roger de Vlaeminck was almost synonymous with Paris-Roubaix and vice versa. In that 14-year period, de Vlaeminck, also known as Monsieur Paris-Roubaix, won the race four times ('72, '74, '75 and '77), came second four times and, besides his DNF in 1980, never placed worse than 7th. He also did well in many other races (he is one of only three to have won all five Monuments) but his consistency in Paris-Roubaix is special.
With his big sideburns, Brooklyn Bubblegum jersey and bright blue Gios, he oozed style. On the bike he was smooth - over the cobbles, he rode with his hands on the hoods, his elbows dropped and his back flat. He came from a cyclocross background and somehow managed to meld the smoothness required in that discipline with the speed and position of a time-trial specialist.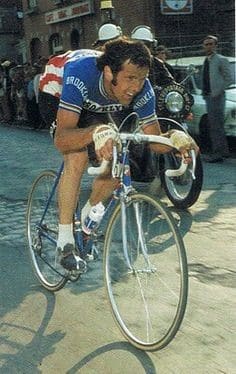 Pros and amateurs alike often partake in secret training but de Vlaeminck took this to another level. He explains it best:
I used to get up at 5am. When it was good weather I went out behind a Derny with my lights on. I used to meet Godefroot to go training and I'd already ridden 120 kilometers. I used to pretend that I was tired because I'd just gotten out of bed and try to persuade him we should have a shorter ride together. I don't know if I fooled him but I needed to bluff the others to raise my own morale.
Rumour has it, he even pretended Godefroot had woken him and would make him wait while he got his kit on.
His preparation for the race itself was also unique in its extremity. Again, the man describes it best himself:
I knew how to get ready for Paris–Roubaix. I used to ride three days of 350 kilometers a day in the week before. I used to ride Gent–Wevelgem and then ride another 130 kilometers having just changed my jersey. One year I rode 430 kilometers in a day. I needed that, that sort of training, to start the race in a good frame of mind.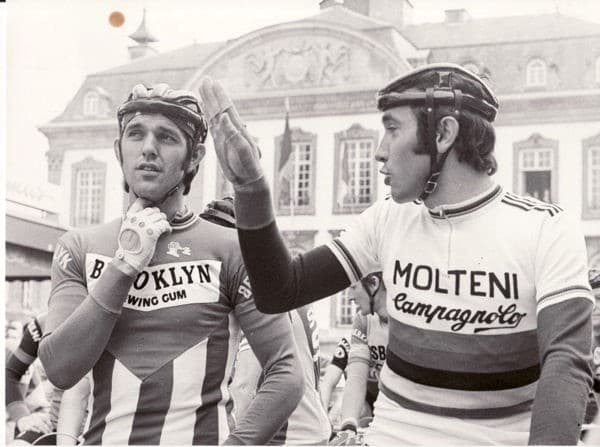 De Vlaeminck and Merckx presumably discussing a steep hill
What makes his dominance of the race even more impressive is that his career ran more or less parallel with Merckx's. They competed every year from 1969 to 1977. In that period, de Vlaeminck took all four of his victories while Merckx 'only' took two of his three. And while statistics don't tell the whole story it goes some way to explaining why de Vlaeminck took the moniker Monsieur Roubaix.
Continuing with statistics, one man it could be argued is the contemporary Monsieur Paris Roubaix is Tom Boonen. He too has won four editions and has the chance to go one better this year. Although you won't hear de Vlaeminck offering much praise. On Tommeke's 2012 victory, he was less than complimentary; "I knew beforehand that he would be next to me [as the only other four-time winner]. Tom cannot help it that this time he had no opposition. They were not second, but third-rate riders." And with that, he says it like he rode it - hard and fast.