We are very excited to be taking our Pro Weekend's to Girona, led by Australian, Mitchelton-Scott professional cyclist - Michael 'Heppy' Hepburn.
The 27 year old discovered Girona in 2012 and has since used the now cycling Mecca as one of his training bases throughout the European racing season.
Here, we had a chat with Heppy on all things Girona ahead of our PRO WEEKEND experience.
Q & A with Heppy
Why did you originally choose Girona as your European base back in 2012?
I'd visited Girona a couple of times the year before and was sold straight away. I had teammates & support staff already living here and I knew that was going to make the transition to the professional ranks a bit easier. When cyclists are searching for a base, the training and weather are two pretty important factors. Girona easily ticked both those boxes.
Favourite ride?
The Coast loop. There are a bunch of different ways you can get out to the Costa Brava coastline, but the stretch of road between Tossa de Mar and Sant Feliu is one of the most beautiful roads that I've ridden around the world. The road twists left and right, up and down, always with great views of the Mediterranean Sea below.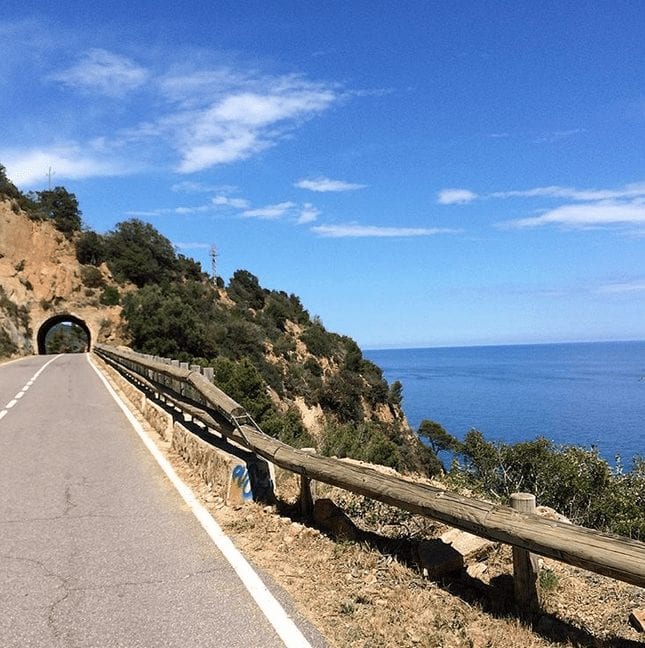 Favourite restaurant?
Placa del Vi 7 & Txalaka.
Placa del Vi 7 is a nice night out and often a bit of a treat for us. Their dishes are tapas style sharing plates and often a bit different. They have an incredible selection of wines from around the globe and staff that are always welcoming.
Txalaka is a very relaxed Basque style tapas restaurant. As well as the best pintxos in town, they have a great menu with delicious seafood. To drink, you must try the Basque sidra and Txakoli.

Favourite local 'Catalan' dish/es?
Hard decision as the food in Girona is tough to beat. Meats and seafood are very popular among the locals and although they are usually cooked quite simply, they always nail it. I'm also a big fan of Patatas Bravas for an afternoon snack. Some people think they're just wedges with sauce, but if you find the best places, they're a lot more than that. Place del Vi 7 serves the best Bravas in town.
If you're up for dessert, you must try Crema Catalana - a custardy dish, similar to creme brûlée. Although very tasty, one of the most satisfying parts is cracking the caramelised, glazed top.
Coffee?
In the last few years we've been spoilt for choice in town. A bunch of coffee shops and eateries have popped up all over town and remind me of the coffee scene back in Australia.
A few suggestions to guarantee a good coffee:
Coffee and Greens
Federal Cafe
Espresso Mafia
Why would you recommend Girona as a cycling holiday destination to others?
As I mentioned above, the training options and weather in Girona are two of the big drawcards. With great year-round weather and very few wet days, it's easy to take it for granted. Unfortunately we get reminded pretty quickly when we head up north for the spring classics..
There are so many great routes to choose from when out training that you could easily ride one of Girona's best rated rides every day of the week. You have options for flatter rides or if you're looking to challenge yourself a bit, you can head inland towards the Pyrenees and ride some of the many longer climbs. If you prefer something a bit different, there are countless back roads and gravel sectors to go off exploring.
When you're not out on your bike, the city has plenty of character and is rich in history. Fantastic food and wine, cobbled streets that are dotted with squares and the river Onyar which is famous for the many brightly painted houses lining it.
What are you most looking forward to on your PRO WEEKEND in Girona with Mummu Cycling?
Girona really has it all for the bike enthusiast. The number of cycle-tourists visiting town in the past few years is a testament to this. I'm looking forward to showing off this beautiful town, on and off the bike, in a relaxed environment typical of Catalunya.
Michael is a double Olympic Silver medalist, as well as multiple world champion on the track and two-time stage winner in the Teams Time Trial at the Giro D'Italia. He recently successfully took on his debut Tour de France and ended on a high with a top ten performance in the Individual Time Trial.
For more details on how you can join Heppy in Girona on a PRO WEEKEND - head here.