During current times of uncertainty and forced 'down time' at home for many in self-isolation/strict quarantine, we've had a chat to a few of the pros in lockdown throughout Europe to get some top entertainment and fitness recommendations!
First up, is Jess Allen, an Aussie pro cyclist racing for Mitchelton-SCOTT. Jess is currently in Spain unable to train on the roads, restricted to apartment life. She's remaining positive, busy and upbeat, however and has kindly shared a few tips to doing so below!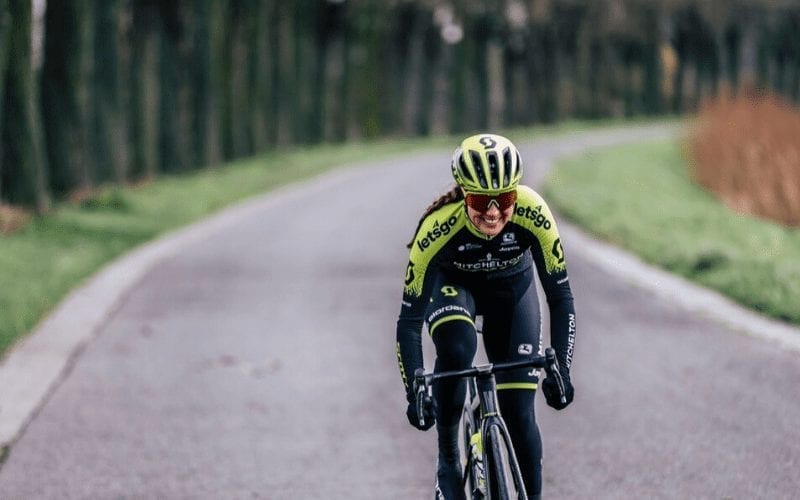 Top playlist/s on Spotify or #1 song that keeps you upbeat?
Aussie BBQ
Guilty Pleasures
Even Flow
Hot Hits Australia
I'm not a huge reader so I'll be looking for recommendations, but I'm actually reading a book called 'Attached' by Dr Amir Levine and Rachel Heller. It's about understanding the three attachment styles in relationships.
Currently watching on Netflix/other or go-to movie/s?
I'm into some Spanish TV series at the moment. Elite, Money Heist and Cable Girls. The latest season of Elite is out and the next season of Money Heist is out in a couple of weeks.
I love a good rom-com movie but also any genre.
Recommended wind trainer session/brief run down on your go-to workout to do on the trainer?
I like interval sessions on the trainer as it makes the time go faster. At the moment my favourite sessions are SE's and 30/30's (3 sets of 8mins, 30seconds max, 30seconds active recovery).
For the Zwifters - Have a special ride/workout (or series of) coming up on Zwift that others can sign up to and get involved with?
I just finished the Bike Exchange Where the World Rides series and I quite enjoyed that so I'll be on the hunt for some more to join.
Do you have a favourite strength/home gym routine or exercise?
My home gym routine is the following:
3 x 1min skipping (I air skip as don't have a skipping rope)
Stabilisation exercises with an exercise ball and 2 x 1min wall sits.
My main exercises are 4x8 Squats, 4x8 Single legged deadlifts and 4x8 lunges.
I then finish with core and upper body exercises.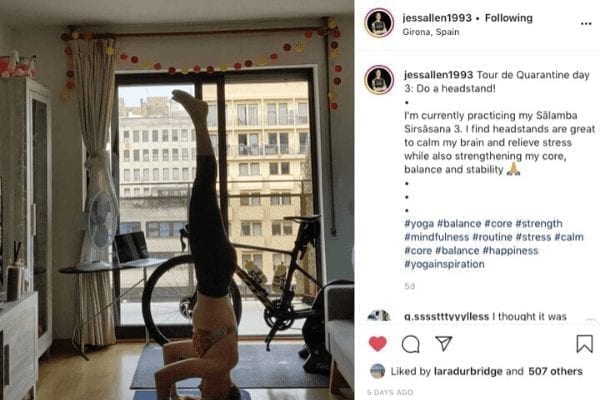 Anything else you're getting up to to keep entertained/active/stay positive or recommendations that you'd be happy to share?

I find having a daily planner really helpful. I will put times in for certain activities to do each day. This helps me get out of bed in the morning and have purpose and meaning to my day.

I'm having 2 lessons a week on 'italkie' learning Spanish. You can pick a tutor on there and you have a one on one session over Skype. On alternate days I'll do 30mins of Duolingo.

I think it's also a nice time to do things you don't get the chance to do normally. I'm going to start making birthday cards with watercolors/pencils etc for friends throughout the year.

I will also do some online core, yoga and zumba classes. I find this a bit more motivating than doing it myself. I'm yet to find good channels yet but I'll keep you updated.

I'm also speaking to a sport psychologist in Australia once a week. I think now is a really important time to speak to sport psychs to help keep your motivation and purpose when the rest of the season is so unclear.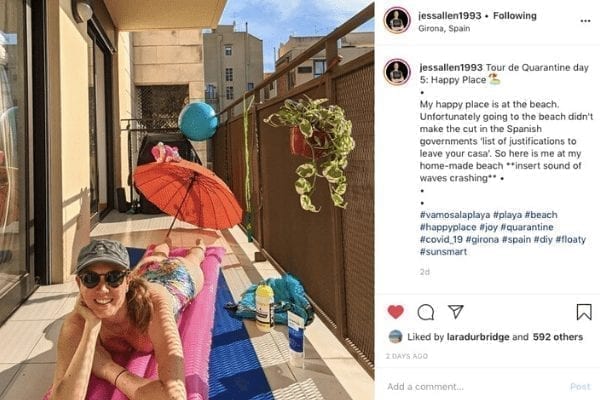 Thank you Jess for taking the time to chat and share these top tips! Tuning in to 'Aussie BBQ' as we type...
Follow Jess to see what she's up to in quarantine and to add a positive spin to your own situation.
Stay tuned for more: 'Pros in Quarantine Quick Q's' coming soon...