27 year old Australian professional cyclist, Luke 'Durbo' Durbridge has been with the now dominating Mitchelton-SCOTT squad since 2012 and has proven to be a real backbone to the team and their success over the years. His biggest strengths predominantly lie in the Individual and Team Time Trial and in recent seasons, he has certainly stepped up to become a real Classics contender, as well as a consistent team strength and support in Grand Tour's.
Durbo took a shine to the Santos Tour Down Under at his first appearance with the UNI SA development squad in 2011 and has competed in almost every edition since with Mitchelton-SCOTT (GreenEDGE). His only absence was this year due to a broken collarbone sustained at the Australian National Championships.
He will be returning to the race in 2019 and following the team's victory with Daryl Impey this year, they'll no doubt be aiming sky high!
TDU Q & A WITH DURBO
How many Tour Down Under's have you taken part in?
I have done 7 - the only one I missed was this year.
It would have to be the second time we won with Simon Gerrans, as Caleb Ewan was also winning all the stages. We won the overall, the sprint jersey and 5 stages! It was an epic year.
A few years back we took it up with Sky into the bottom of Willunga and split the group into a small bunch in the crosswind, which gave Gerro the best chance to race up Willunga. He did - and he went on to win the overall.
What's so special about the TDU, compared to other World Tour events?
It's in Australia, so we have home fans cheering us on and there are also plenty of great events around the race for people to enjoy.
For the riders, it's nice and convenient as there's only one race hotel and a lot less travel than what we're used to when stage racing throughout the season.
We can also ride back to the hotel from most stages as they're short. Just action packed, short racing. I love it!!
Love it. Fans get really get into it, especially when cheering for the Aussie's - they really get behind us.
Aspirations for the 2019 TDU?
To win the overall with Darryl Impey again.
Stage you're most looking forward to?
Stirling is always a great circuit, but I think Willunga is going to be the big day.
Stage you're most dreading?
The Down Under Classic crit...always such a fast, hard first opener to the race.
As the Mat Hayman retirement race, it will no doubt be a pretty special time for the team?!
I'll be honoured to ride in his last race. A true champion of the sport and a great friend. It should be a great send off for him.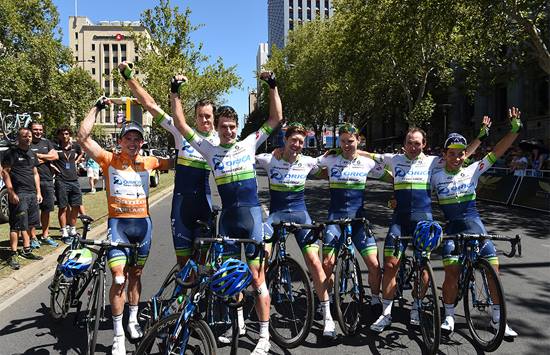 Thanks for the words Durbo and all the best for January!
We'll be there right alongside, backing Luke and the squad throughout. Want to join us?! Head here for details.