From the Desk of Stuart O'Grady...
Here I am sitting in Mondorf Les Bains after an incredible start to my TDF European adventure with Mummu Cycling.
I landed in Dusseldorf last Wednesday into torrential rains which lashed the start of the TDF. We had a small group of great people who I introduced into "my" cycling world. We met teams, riders, mechanics and had photos with a lot of their favourites along the way.
Ran into an old friend this arvo... This time we aren't trying to kick each other butts in the sprints. He was a Legend @letour @EteZabel pic.twitter.com/OLiQPzv7mX

— Stuart O'Grady (@StueyOG) June 29, 2017
Stage 2 we rode the final 50kms of the course then had the once in a lifetime (for the guests of Mummu Cycling anyway) to ride across the finish line and then get invited up onto the Podium where they were given the Yellow & Green jerseys to really top off a very special occasion.
After the Stage I headed down to Luxembourg with Christian Van de Velde & Jens Voigt to be a part of a special ceremony in Mondorf les Bains with the Schleck brothers and their families.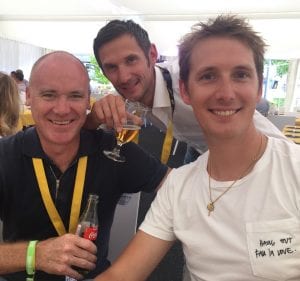 It was great to see them all again and that because of those two brothers the whole TDF circus was coming to their hometown. Its a pretty special moment.
Yesterday the Stage kicked off under perfectly sunny skies and the peloton rode their way through the stunning scenery of Luxembourg. I hung around in Mondorf for lunch with the Schlecks and really took as much of it in as I could. I spent 3 great years living in Luxembourg and have so many memories with my own family. Seth learnt to ride his bike here, the kids went to school here, we had a great life in Lux and the memories were flooding back.
In the afternoon though I had a very special treat coming up. One of my lifetime goals was to drive the Nurnburgring. The famous "Green Hell" though the insane roads of the very famous racing track.
An old friend of mine just happened to have bought a brand new Ferrari 488GTB which he hadn't had the occasion to take around the circuit yet either. So after an extremely quick & easy decision, he scooped me up and we were on our way to have a crack at the famous circuit. Now words cannot describe it & the video clips don't do it justice, but the complete craziness of what we did really didn't sink in til later.
Its open slather out there. Anyone can rock up in any car, motorbike pay their 25 euro and just go full gas! Its insane. No car controls. No breathalyser before the start, they just get on and go nuts.
Its the first time I've had sweaty palms for as long as I can remember. We did two laps at around 8mins 27sec, which is going pretty quick, but not dangerously...Well...
We saw two cars wipe out in front of us and become instant wrecks & seeing there is no insurance its pretty mad to see how people push it to the limit. Way above their abilities. It was an awesome experience.
Then we went on to the F1 track for 10 minutes of absolutely insane flat out driving. Steve my driver & friend was an ex professional racing driver, so I was very happy to have him guiding me around at speeds I wouldn't have dreamed of. I had an absolute ball!
All this while the TDF was going on and all hell was breaking loose in the finish.
Sagan DQ'd. Cavendish smashed into the barriers. The social media world was on fire blaming whoever they thought was responsible.
Sport is dangerous. People make mistakes. In the heat of battle athletes do crazy things.
I've also seen Cav take out a few riders during his career. Yes he apologised, but it happens.
We all make mistakes but it's what you do next that counts, how you react & respond.
I've locked horns and elbows with Robbie in a pretty well photographed sprint. Luckily neither of us crashed, but at some stage we've all been taken out. Crashes happen, that why I stopped doing sprints and targeted the Classics.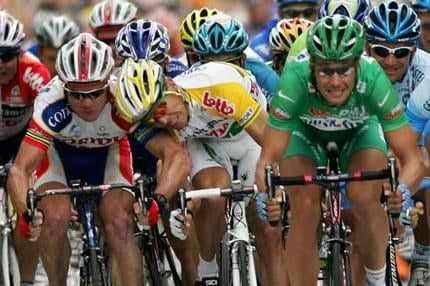 The pressure of winning is enormous from the Team bosses but most of the pressure comes from the rider himself. He is his biggest enemy.
The ego's are at max inflation. The whole sporting World is watching. The stress levels are at absolute maximum & you've got a bunch of likeminded sprinters (who are all a little bit crazy in the head) going for the Win, at all costs. Thats the Tour De France. Sagan should've been disqualified, but kicked off the Tour De France? No, I don't agree with that.
The Tour has been getting worse and worse for years, theres no real Boss of the peloton anymore, the gloves have been off for years. Guys are attacking on wet descents now. Attacking when the leaders have mechanical issues, attacking when theres any advantage to be taken. Theres a lot more traffic furniture along the roads doing everything they can to slow cars down through towns and the cyclists are coming even faster and more reckless than before. There is basically no more "Respect" in the peloton, something we held highly when I raced. Riders need to start respecting each other again & take responsibility for their actions. Crashes are becoming common because there is no more respect.
You can't cover every scenario when you're racing on public roads, you can't control every spectator & you certainly can't control every athlete in the heat of the finish line. Be strict but be fair & consistent. DQ them, give them fines that will hurt their pockets, take away lots of points but don't take the actors out of the movie. Because the show has to go on...
Vivre Le Tour...
Stuey