Hey you! Up for a challenge??
Former professional cycling legend, Stuey O'Grady is throwing one down…
With current times still uncertain and with a lot more time than we're used to indoors, if you're like us - you're by now well and truly immersed in the indoor cycling world!
We've just completed our successful RGT Cycling April ride series that consisted of a collection of fun, social group rides, with a few challenges up epic mountain passes in the mix…
This gave Stuey the idea to set up a 'challenge throw-down' competition, and yes there's a worthy prize on the line!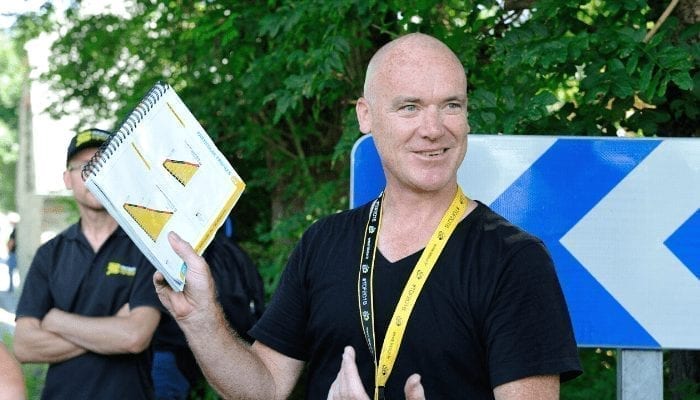 HOW TO CONTEND?
We'll be sharing Stuey's Stava Segment of his 'Challenge throwdown' with his time, the specific ride route he's selected and the cycling app/platform he's using.
You'll then have 1 week from release to try and beat the 2007 Paris-Roubaix champion's time by submitting your best time using the same platform and riding the same route.
Does Stuey still have it and do you have what it takes to beat him?!
*All chosen app's for Stuey's Challenge Throwdown's will have free sign-up policies or free trials. We will mix it up by using various different platforms for each challenge.
HOW DO I SUBMIT MY TIME?
Email your Strava workout link or a screenshot/image of the post ride stats (including ride details & date) to us at : ecollins@mummucycling.com
*(If you're on Strava, your account can be synced to the indoor cycling app you're using).
We'd also love you to share on social media and tag us @mummucycling , then hashtag #stueyschallengethrowdown !
WHAT'S UP FOR GRABS?
The first male and female will win a $250 voucher to spend on any Mummu Cycling experience through to the end of 2021.
An additional prize containing a selection of Mummu Cycling merch will also be randomly drawn from the pool of ALL participants entered during the week! So everyone who enters is in to win!
*Anyone can enter - this is all about having a bit of fun. However only non-professional cyclists will be awarded our prizes :)
We will be posting leaderboard updates as times roll in so you can see where you stand and if you'd like to have another crack or two before the week ends! Have a shot as many times as you so desire...
WHERE WILL I FIND 'STUEY O'GRADY'S CHALLENGE THROWDOWN' RIDE ANNOUNCEMENTS AND UPDATES?
We've created a Facebook Event where all information; including each new challenge, our winners, leaderboards etc. will be released!
Join the event, here:
https://bit.ly/StueyOGsChallengeThrowdown
TIME TO GET GOING?! HERE's STUEY O'GRADY'S CHALLENGE THROWDOWN #1
Platform: FullGaz (https://fulgaz.com)
Ride: Formentor
Distance: ​35.1km / 21.83miles
Climbing: 2602 ft / 793m
Stuey's time to beat: 1:11:59
Entry's close: Sunday May 10th 5pm AEST and winners will be announced soon after!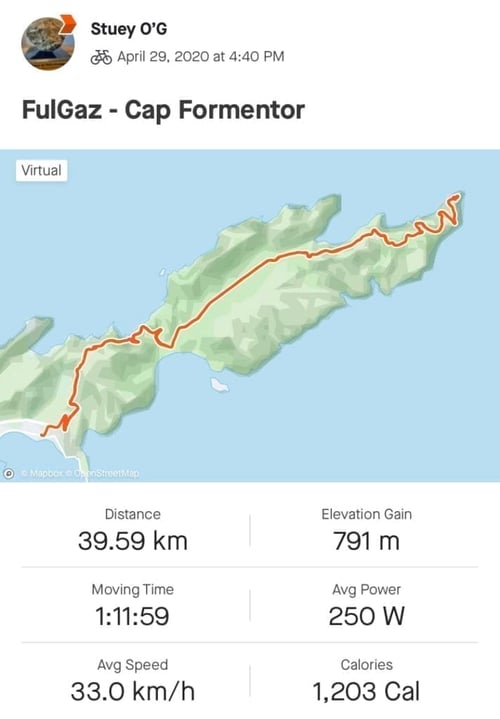 *NOTE: When synced with Stava, the distance automatically increased from 35km to 39.59km. Ignore this - just make sure you do the same route, on the same platform and you'll be away laughing, or suffering - you choose... ;)
Have fun and good luck!