Week Two Race Recap
Week two at the Tour de France has confirmed that this year's race is shaping up to be one of the most exciting edition's ever. Perhaps it's due to the more level playing field, fresh faces in the mix, new roads, or the final knock to Team INEOS's unstoppable run at the top of the ladder.
Regardless, we have been completely captivated by every minute of madness this week and although our eyes are weary from too many late night's glued to the television, we're so ready for what the Alps may bring!
@A.S.O:AlexBroadway
Biggest news of the week has to be the huge blow INEOS has now had on their quest to do the double with Egan Bernal. The young Colombian, who turned heads last year with an inspiring performance, has since the start of the race, been consistently 'there', but seemingly struggling more than usual, missing his 2019 spark. Yesterday, this was confirmed when he fell victim to the ferocious pace Jumbo-Visma set from the base of the final Grand Colombier ascent, where he went on to lose over seven minutes to the leaders.
Although there is still ample climbing and opportunity to come, the massive loss realistically puts Bernal and INEOS out of the GC fight for top step, for the first time in a string of successful years in Yellow. It will be interesting to see how they play out their week through the Alps…
To add to Bernal's slide down the standings, other favourites, Nairo Quintana and Guillaume Martin also exploded up the Grand Colombier during yesterday's stage, again thanks to the punishing efforts of the all-too strong Jumbo-Visma.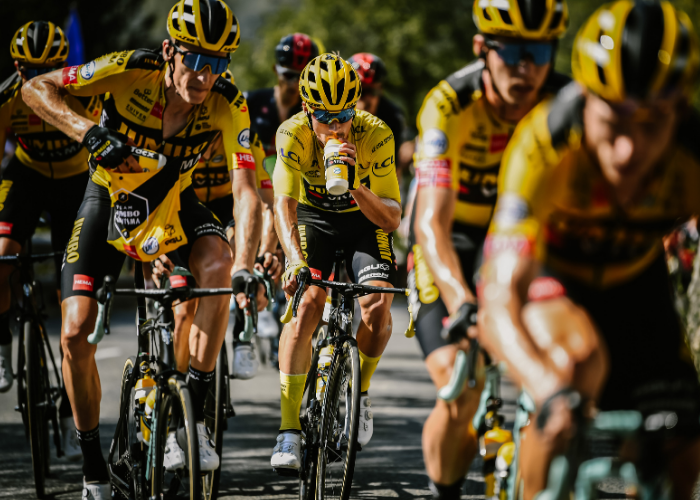 @A.S.O:PaulineBallet
It wasn't just yesterday that the men in yellow took it to the race…they've been in control, somewhat owning the tour since Nice. This week, in particular they've been not only shielding the Yellow Jersey, but going after more time as the aggressors, leaving competitors a little legless and with seldom opportunity to catch them off guard. At this point, no one's really stood a chance, except young Slovenian prodigy, Tadej Pogacar and ironically, good friend of current Maillot Jaune, Primoz Roglic. Pogacar now has an impressive two stage wins to his name, both of which Roglic has tailed in just behind him.
The 21 year old now sits 40 seconds down on Roglic leading into the Alps, so is absolutely in with a chance if he has the legs and the heart to do so. It will be a tough task, however as Roglic is also in exceptional form, at this point simply uncrackable and to his advantage, he has a dream team of support around him; patrolling him around from the flatland, through to the mountains and even having the talent and numbers to stay with him right up to the pointy end. They absolutely have strength in numbers, and something they will continue to hold over Pogacar, who at this point is sitting a little isolated when the road rises up.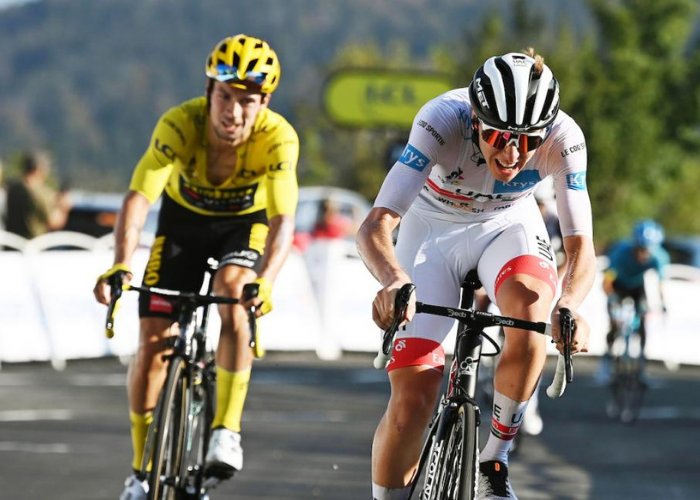 @CorVos
Although these two men are clearly the strongest, anything can happen in the Alps and there are some heavy hitters still well within contention of the win. Regardless, the fight for the podium will be a cracker with Rigoberto Iran currently sitting in third at 1.34, closely tailed by Miguel Angel Lopez, Adam Yates, Richie Porte, Mikel Landa and Enric Mas.
Australia couldn't be prouder to see Porte back at his best sticking it to the Tour de France. Here's hoping he takes his fine form, grit and determination right through to the finish. Allez allez Richie!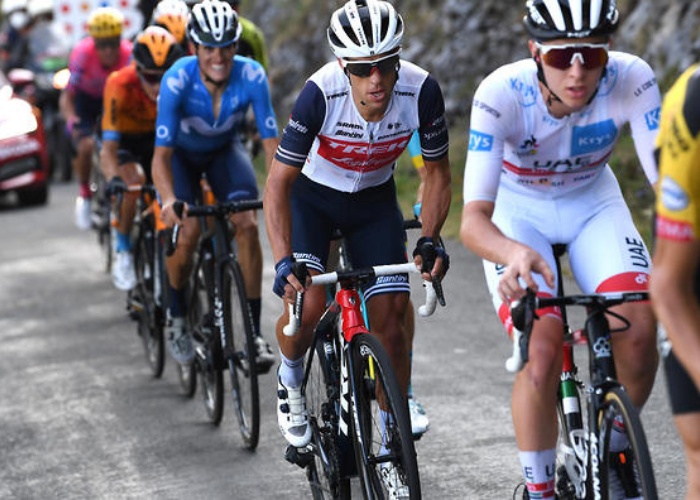 @GettyImages
All in all, the Massif Central certainly proved pivotal and has set the bar pretty high for what we can now confidently assume will be a thrilling final week of action through the mighty Alps.
What's to Come?
Here's hoping the guys have rested well as from now, there's little room for respite!
Tomorrow's mountainous Stage 16 ventures through the La Chartreuse area, enduring the challenging Col de Porte and a heart dose of the Vercours mountains, including the 11km Montée de St Nizier du Moucherotte thats summit lies just 15km from the finish where another daring 2km climb to the line awaits.
The Queen stage will swiftly follow on Stage 17, tacking the iconic Col de la Madeleine, with the biggest test lying up the slopes of the Col de la Loze finishing climb, that includes sections of up to 20% gradients. This climb in particular could prove game-changing for many and a day the GC contenders will have no doubt been eyeing fearfully for months.
There's no rest for the wicked as Stage 18 continues the uphill run with quite the roller coaster profile, including over 4000m of climbing. First up, the Cormet de Roselend, followed by the Col des Saisies, on to the Les Aravis, and if that wasn't quite enough to really sting the legs, there's also the Montéedu Plateau des Glières to battle over before continuing on to La Roche-sur-Foron.
Stage 19, looks a little tamer, so could offer a small opportunity for contenders to attempt to recover heading into the penultimate time trial. This day could be one for the opportunists or the sprinters, and will definitely be a key stage for the Green Jersey contenders.
Stage 20 will be quite the spectacle as the tour's only race against the clock, and a tough one at that as the 36km course cruelly finishes up the 5.9km, 8.3% La Planche des Belles Filles. For those that don't remember, it was included in last year's tour as a summit finish on Stage 6.
If the battle between Roglic and Pogacar is still close, as well as the fight for the podium, this could prove quite the interesting penultimate stage…We're already tense just thinking about it!
At this point, assuming Roglic maintains his excellent form and calm and if he leads into Stage 20 - with his credible strength in this discipline, it will take a truly remarkable ride to best him here.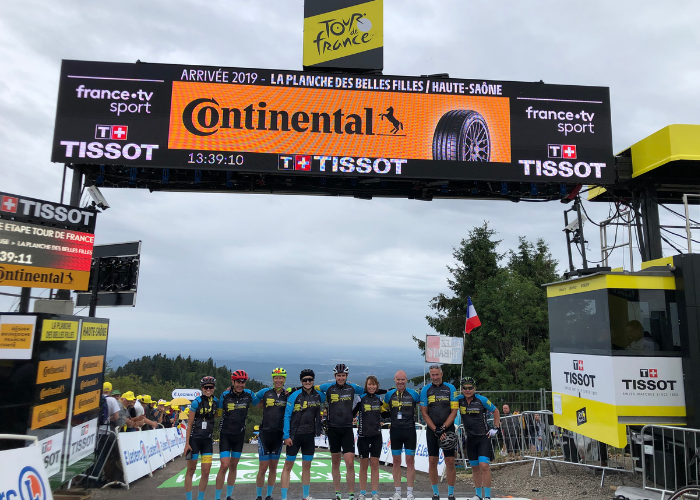 Us at the finish line up La Planche des Belles Filles at last year's Tour de France. What a day!
The fight for Green is still a go...
The fight for Green is well and truly still firing as Irishman Sam Bennett now leads over Peter Sagan by 45 points. Bennett's emotional first Tour de France victory on Stage 10 saw him move back into Green, and with a tight second place to Caleb Ewan the following day, his lead strengthened further. There's been no backing down, however from a doggedly determined Bora-Hansgrohe who have shaped a number of stages early on by laying down a punishing pace in an effort to drop Bennett and bump Sagan up the standings. Their efforts have so far been successful as the gap has narrowed, however will they be enough to defeat the Irish champion who is without doubt currently one of the fastest men in the world?
This week will definitely prove more challenging for him than Sagan, who does climb a lot stronger, however the odds will be in Bennett's favour come a potential sprint Stage 19, and of course, the famous run into Paris.
There's no doubt though that the man we're so used to seeing in Green won't go down without a fight!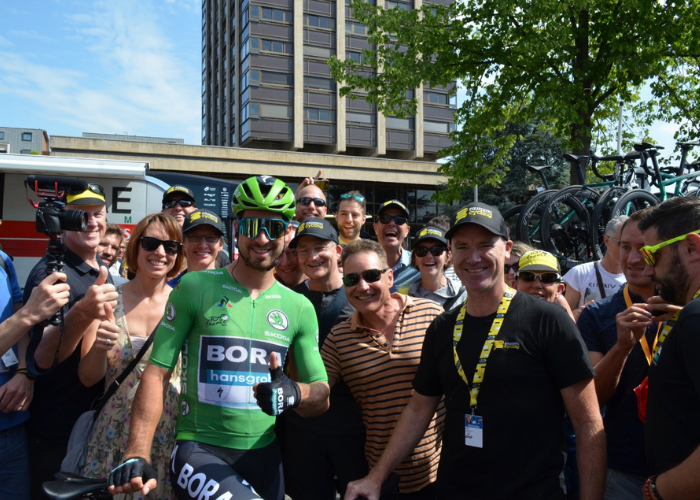 Memories with the legendary Peter Sagan repping Green at last year's TDF.
When it comes to Paris, all eyes will turn to Aussie sprint phenomenon, Caleb Ewan, who has so far won two stages and will be highly motivated to match last year's success and make that three along the Champs-Elysees, as he was able to do so spectacularly last season.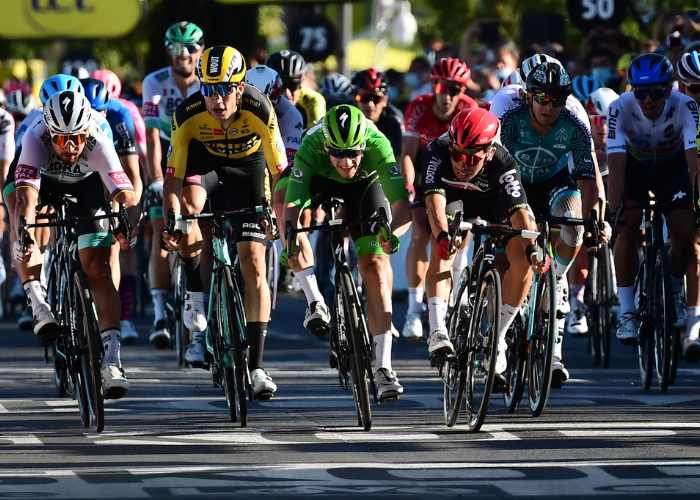 @A.S.O:AlexBroadway
Polka-Dots On Demand
The polka-dots are also hot on demand as Frenchman Benoit Cosnefroy still leads the Mountains Classification, yet by the slimmest of margins, now a mere two points ahead of Pogacar and three over Roglic. With some brutal stages coming up in the mountains, he'll have some serious work cut out for him if he wants to take the spotty jersey through to Paris, and will need to continue to steal as many points as he's able to in the earlier phases of each stage, before the GC men whip out the goods at the pointy end.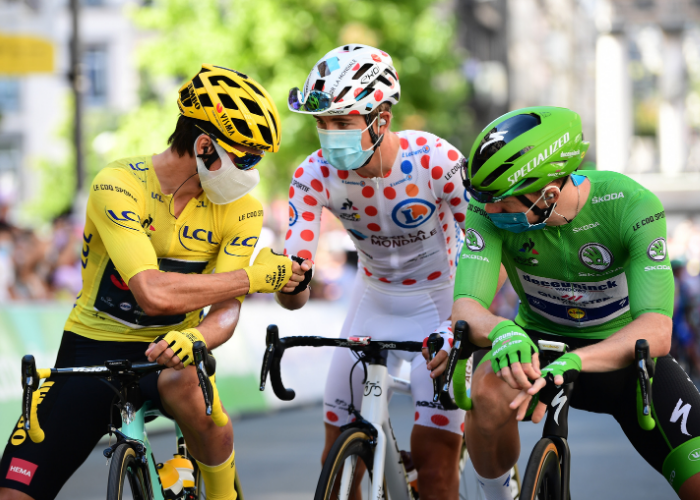 @A.S.O:AlexBroadway
Breakaway Bliss
Once again, the stages that breakaway's have succeeded have arguably been the most thrilling of all as we get to appreciate the race for the stage and the race for the GC behind.
Performance of the week has to go to the young Swiss rider from Sunweb, Marc Hirschi who emphatically won Stage 12 following a late race breakaway, then rode clear to finish solo in absolute disbelief, after he came so close in several stages prior. Fantastic to see his aggressive, tenacious riding style pay off!
Stage 13 was just as exhilarating as EF Pro Cycling's Dani Martinez won from what was originally an 18 man breakaway, whittled down to the strongest men standing and a valiant battle up the challenging Puy Mary climb to the finish. It was all EF vs. Bora, with Martinez besting them both, ending the day victorious.
Sunweb clearly still had winners high as they carried their momentum from Stage 12 through to Stage 14, when Søren Kragh Andersen of Denmark broke clear of a reduced peloton with just over 3km to go, countering several attacks from his teammates, and held on beautifully to win solo.
That's two impressive, tactful and incredibly gutsy victories for the team who will no doubt be back in the moves this week, eager for more.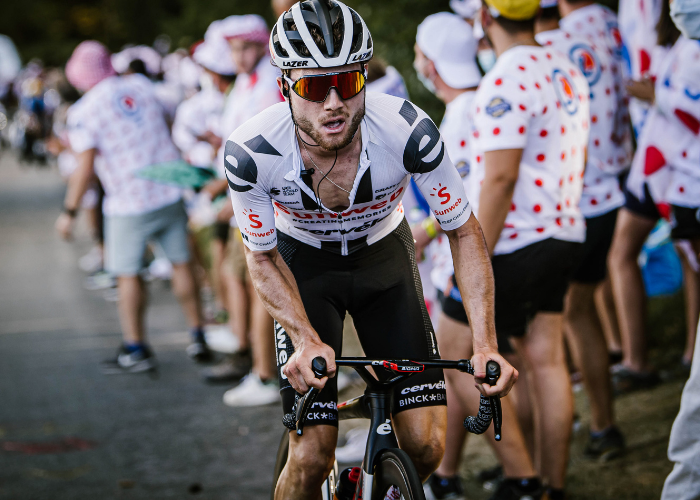 @A.S.O:PaulineBallet
TDF 2021
As another week of Tour de France has drawn to a close, we continue to remember the great times we've had on tour with so many amazing guests over the years.
To add, we have been busily preparing our 2021 global tours that we are optimistic and hopeful will resume once travel commences. We have updated our booking policies and tour delivery protocols to adjust to 'the new normal', with the utmost priority being the health and safety of our guests, and are confident that as we move forward, we will get back to the races, delivering incredible cycling experiences across the world, adapted to current times.
With the Official route for 2021 set to be revealed by the A.S.O late October, we, as an Official Tour de France Tour Operator will be getting the head's up first, and as soon as we have route details, will be carefully curating our complete line-up of TDF 2021 itineraries.
If you want in on all tour info first and wish to secure your spot on your tour of first preference, then we strongly recommend placing a 100% risk-free booking deposit.
Head, here to secure your place now and join us in our countdown to the Tour de France 2021!