The Race
One of the world's greatest mountain passes, the Passo dello Stelvio will be returning to the Giro d'Italia in full swing in the penultimate mountain stage, 18 - arguably the 'Queen Stage' of 2020.
The incredibly testing ascent, next year's 'Cima Coppi' (the highest climb of the race) will be faced following a testing start, including the ascents of the Campo Carlo Magno and Passo Castrin, and will be cruelly closely followed by the Laghi di Cancano up to the finish, ensuring a much anticipated race-shaping day in the mountains for contenders.
Passo dello Stelvio
As the second highest mountain pass in the Alps, to France's Col de l'Iseran, at 2758m - the Passo dello Stelvio it is far from an easy feat.
There are three varying routes to the summit: the South Tyrolean side from Prato allo Stelvio, the Lombardia side from Bormio and the Swiss side from Santa Maria, over the Umbrail Pass.
The most famous side from Prato allo Stelvio, set to be featured in 2020, also marks the most challenging at a daring 24.3km in length and with an average gradient of 7.4%. Renowned for its unique 48 switchback bends that can be counted down from turn 48.
The first 8km drag from Prato remains fairly tame from the start, before eventually hitting the first of the switchback turns and with that, its steeper gradients, hugged by lush Alpine forest.
The trees eventually diminish, leading to a much more exposed final phase; the summit now teasingly in sight, high above the countless bends that lie before it. Yet, the pain and suffering somewhat masked by the truly surreal views that overlook the Ortler mountains.
Gradients remain fairly consistent, right through to the closing km, that viscously ramps right up to ensure a true battle to the line. Worth every inkling of suffering endured for the incredible feeling of elation and immense satisfaction welcomed at the Passo dello Stelvio summit. Topped with breathtaking views and scenery to appreciate, while kicking back on cloud nine.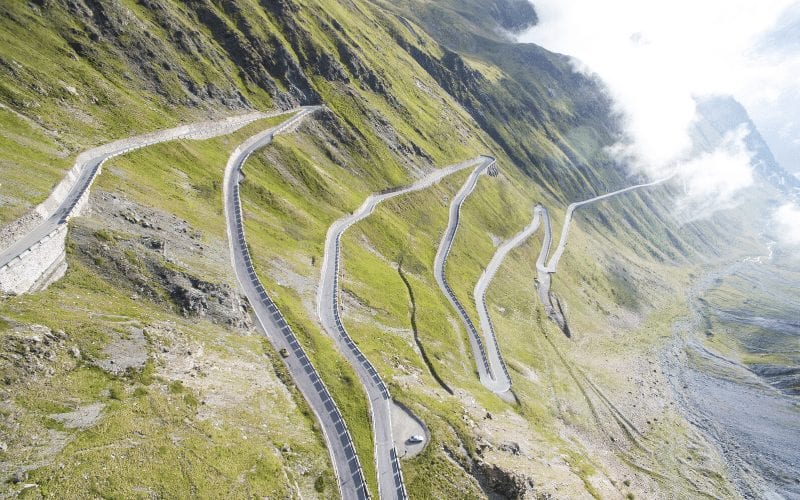 In 2020, we'll be there tackling the epic Passo dello Stelvio ourselves, before setting up at our base roadside to join the electric, mountain-mad atmosphere and await the pros to go-head-to-head with the Passo dello Stelvio in style, as we watch on in awe.
Interested in learning more? Head here, to see what else we have in store for our 9 day Giro d'Italia experience, with special guest, 2 x Giro d'Italia winner, Ivan Basso.