With December now in full swing, we're starting to feel festive, cheery and very excited for the 2019 season that lies ahead.
Here - we've come up with 12 trip ideas for 2019 that may tickle your fancy this Christmas, gift the dream cycling experience to a loved one, or at least get you planning next year's escapades!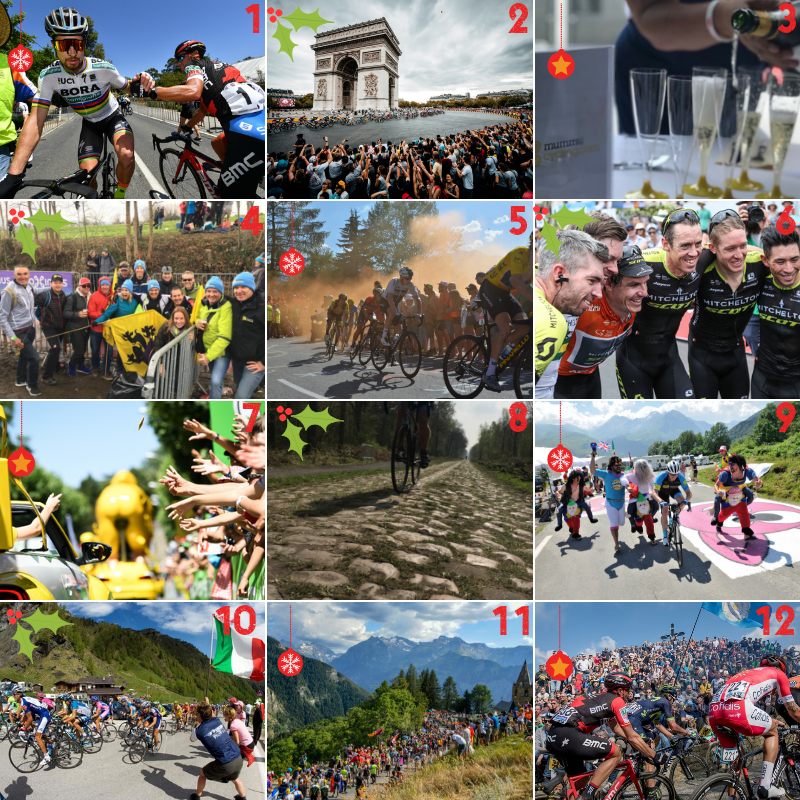 1. Up for some fun in January? It's not too late to Tour Down Under. Join us on an 8 or 4 day Tour Down Under experience to soak up the best race action, hit the Adelaide hills for some adventure and kick back over a Barossa vino or two in between… Sure to be one hell of a good time Down Under!
2. "Paris is always a good idea," said Audrey Hepburn and we strongly agree… Just think - The Tour de France Grand Finale along the iconic Champs-Elysées. It's an absolute must-do experience for any lover of cycling! To be in amongst the sensational atmosphere, lined with excited crowds of fans watching the world's best cyclists at battle, just metres away from our premium viewing spot – is indescribable. Who will bring the 2019 Maillot Jaune home and who will reign final King of the Champs-Elysées in 2019?
3. French cuisine, wine and gourmet cycling with a dash of the biggest cycling event across the globe – The Tour de France, sound like you? Our Tour des Vins will be all about mixing it up with a bit of both. Based between the stunning Rhone and Alsace regions, renowned for their incredible vineyards and gorgeous French landscape. We'll be catching the best early live race action, while embracing the stunning countryside and French delicacies along the way!
4. Four days of Flanders FUN - this one's all about the Ronde. Here, you will have the chance to ride the Flanders sportive ahead of race day, allowing you the unique opportunity to conquer the cobbles on closed roads ahead of the pro's. The famously brutal Koppenberg, Oude Kwaremont and the Paterberg all lie ahead for what is sure to be one serious cobbled adventure! Following a big day out, you'll be in for another incredible day of spectating as you join the sensational Spring atmosphere and electric crowds, for one of the biggest day's in cycling - the Ronde van Vlaanderen.
5. How about a taste of all things Tour de France? Our 'Best of Le Tour' coach tour will take you on a 13 day journey from the Pyrenees, through to Provence, onto the iconic Alps and rounding out in Paris for the final showdown along the Champs-Elysées. You'll ride through France's most stunning regions, enjoy premium live TdF spectating and immerse yourself in the sights, while enjoying the best gastronomic delights of the countryside along the way!
6. Following Daryl Impey's epic win in this year's Tour Down Under - the Mitchelton-SCOTT squad will certainly be aiming for a consecutive victory. They'll be bringing their A game and included in their team lineup is the legendary, Mathew Hayman. The 2016 Paris-Roubaix winner will be rounding out his impressive career at the race and what better way to complete over 18 years of professional racing! This GreenEDGETravel experience, hosted by former professional and Aussie sprint sensation - Matthew Goss, will ensure inside access to the team and the opportunity to truly feel part of the stellar squad on their fight for glory.
7. The BIG start. The Tour de France Grand Depart for 2019 is set to be a real spectacle, kicking off from the Belgian capital of Brussels. If you haven't experienced the spectacular Spring Classics, this could be the perfect opportunity to get a taste. Coupled with the Tour de France - you'll be in for the ride of your life!
8. Roubaix ROCKS. Keen to see who will claim the 2019 Paris-Roubaix rock? We do, and we'll be there in VIP hospitality at the famous Roubaix Velodrome to see yet another legend born. It's the 'Hell of the North' and a truly spectacular, must-do day on the cycling calendar. You will be hosted by former champion, Stuart O'Grady who will be sharing precious victory memories and advice along the way. To add, you'll have the opportunity to conquer the famously tough pavé sectors yourself ahead of the race, in the Paris-Roubaix Challenge ride.
9. Pyrenees please! They're charming, green and incredibly scenic. Add in the spectacular Tour de France, and there's something seriously charismatic about the Pyrenees. We'll be there in 2019, catching the best Pyrenean action moments, including the famous Col du Tourmalet summit finish. Race ON!
Prefer to click k's for days and conquer many-a Pyrenean mountain? We also have a 'ride' focussed experience just for you!
10. Down for some Coast hopping? In 2019, we'll be hitting Bella Italia to catch some serious Giro race action, ride through the stunning Italian regions from Tirreno to the Adriatic coastline and indulge in the incredible culture along the way! Hosted by former dual stage winner himself, Matthew Goss - it's set to be a great one.
11. Allez Allez Allez! There's something very surreal about being in amongst the Tour de France Alps atmosphere alongside countless emphatic, die-hard TdF fans, watching professional cyclists battle it up relentlessly challenging, yet stunningly beautiful ascents. In 2019, we'll be right in the thick of the spectacular atmosphere, as well as conquering an iconic climb or three ourselves along the way…Col du Galibier, Col de la Madeleine, and Mont Ventoux take your fancy?
If you're more about epic ride focussed days and some serious vertical metres - we also have an Alps 'ride' focussed experience to suit.
12. Classics for fanatics. Up for 11 action packed days of Spring Classics madness? This tour offers the perfect opportunity to conquer the most talked about cobbled climbs, sectors and pavé stretches in cycling. Hosted and led by none other than Paris-Roubaix 2007 champion - Stuart O'Grady, you'll be learning a tip or two from one of the best in the biz. To add to cobble conquering, you'll be catching some serious Classic race action along the way and joining the lively, passionate atmosphere while you're at it. From Flanders to Paris-Roubaix - expect endless adventures and good times!