We had the pleasure of recently chatting with Santos Tour Down Under back-to-back champion, Daryl Impey, following one of his greatest seasons to date...
He started on a high by returning to Adelaide in January to claim an emphatic, down-to-the-wire victory over Richie Porte, and soon after went on to win both South African national road and time trial titles. Proudly sporting his country colours, he performed consistently well throughout the season - the biggest highlight being his incredible Stage 9 Tour de France victory.
Here, we spoke with Daryl about his success at the Santos Tour Down Under and his hopes for the 2020 edition, now fast approaching!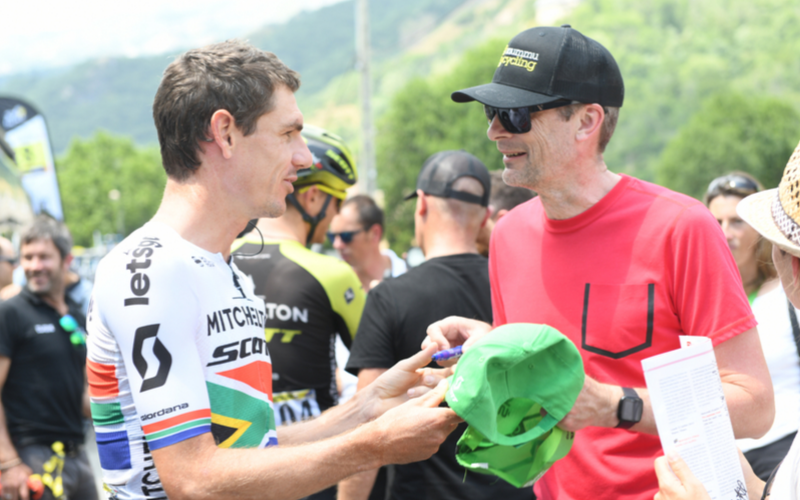 ---
How did winning your second Santos Tour Down Under compare to your first in 2018?
The first was a little bit of a surprise to myself and the team. The second time I went knowing that I could win an event like the TDU, so I had a bit more confidence in myself and a team being built solely for the GC. It was a bit more special because it was the first time someone went back to back and being Hayman's retirement race, made it even more special.
It was a huge, history making achievement to take the title for the second time this January. How does it feel to be the first Santos Tour Down Under back-to-back champion?
To be honest, I didn't get caught up in all the hype about it being back to back initially. I just wanted to do my best and focus on the task at hand. After I had done it, it really sunk in and it was awesome to do the double. It's nice to be the first at anything because you are known to have set the bar again and that's a good feeling.
Surely you must dread Willunga Hill, after having to dig so deep both year's to claim the title with the GC so down to the wire? How do you do it?!
I don't really dread it, but rather I know I need to do my thing and hopefully it's enough. I quite enjoy it, knowing I will give it my best and there is nothing else I can do. I try ride to my strengths and go from there. A lot relies on that ride up Willunga which has made it so iconic.
You obviously cope very well with pressure too, with the overall standings consecutively being so close, and using your speed strengths to take time bonuses each day on tour…not your standard race for overall victory that's for sure. How much do the time bonuses really effect/shape the race and how do yourself and team go about handling the added pressure throughout?
There is no doubt I need a buffer and we work hard at what needs to be done. I put a fair bit of pressure on the team in the race and it is demanding, but with motivated guys we seem to do it very well every year. We select the days we need to nail but stage wins are what counts...you won't win the TDU easily without a stage in the bag.
Your team, Mitchelton-SCOTT have now won the race an impressive 5 times in its history, and as an Australian born team, this is no doubt a very special race to perform highly at. Having been with the team since its establishment, to give these wins back to them and the hard-working team out on the road/behind the scenes must be a great feeling?
I work hard in December, but so do they. It is satisfying to pay them back with a win as I know they are working just as hard to help me as I am trying to win the race. I have been on both sides, so I know the workload and pressure on everyone. I have started to cope a lot better with that now. It is humbling that they believe in me.
You're consistently on fine form at this event, as are the selected riders. How does this set you up for the remainder of the season and returning to peak form later year?
It is tricky because we start so early, but yes a good start can always take the pressure off the team and also myself. I like to hit the ground running, I have always had a good season which had a good start. I need to have a break shortly after the race to prepare for the European races but it's nice to race in good weather and with great fans.
What do you love most about the Tour Down Under?
The fans and the weather!
Stirling.
Lastly, congratulations on rounding out your most successful season to date…what are your plans now for the off season and will you be returning for a hat trick?!
Yes, I am focused on trying to get back to TDU to go for the hat trick. It's a big objective of mine!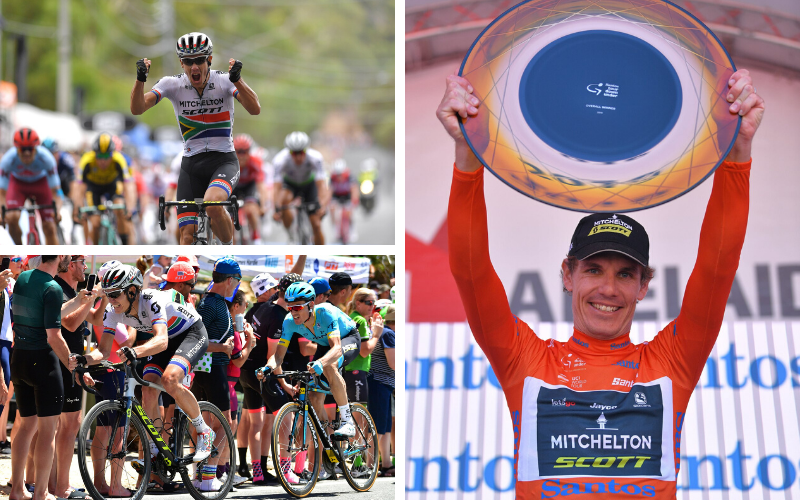 All the best to Daryl and Mitchelton-SCOTT in January! We will be there once more with bells on avidly cheering as they fight it out for number three. Keen to jump on board? Head, here to register.