That's a wrap for our Santos Festival of Cycling experience! The four-day race came to a close on Sunday, rounding out a very special return to the races for us at Mummu Cycling.
As expected, the riding on display was nothing less than exceptional as some of Australia's most talented cyclists took to the start line; from the World tour, to the Olympic track squad and the NRS.
Both women's and men's races included short challenging stages, each day delivering some thrilling, down to the wire performances that had us well and truly entranced. The most exciting stage, as expected came on day three that featured the Tour Down Under icon, Willunga Hill.
The stage marked a special occasion as a first-time feature in the women's race, and for the men, an opportunity for Richie Porte to claim his seventh victory at its summit, which unsurprisingly he did so in fine fashion!
In the women's race, rising star, Sarah Gigante at just 20 years old turned heads with an incredible ride up the climb, claiming the stage with ease and further increasing her already significant lead, having soared to victory and into the overall lead on the previous day's Stage 2. She went on to hold her lead come the final fast and furious circuit race around Victoria Park, while the stage went to Olympic track rider, Georgia Baker. One thing to note – Sarah Gigante is going places and now that we've seen her perform firsthand, we can't wait to see what she can achieve on the pro tour.
For the men, following Luke Durbridge's dramatic, convincing solo victory on Stage 1, his extensive lead left little opportunity for anyone to even come close. The National 'Team Garmin Australia' weren't going down without a fight, however, making Durbridge and his Team BikeExchange team mates really work for it, as fiercely talented young track rider, Luke Plapp unleashed in the closing phases on Stage 2, earning himself a deserved solo victory as he went. Plapp went on to have another impressive performance on Stage 3, as the only rider able to stick with teammate, Richie Porte, who comfortably guided Plapp to the line, securing 1-2 on the stage and confirming his stance as King of Willunga.
The versatile National team held onto the winning momentum, round out the tour on a high as Sam Welsford stormed his way to Stage 4 victory, whipping out some incredible speed in the final dash, that had him hold off Team Bike Exhange's promising young sprinter, Kaden Groves to the line. Looks like Welsford and his track endurance team mates are on the right track with their Olympic preparation.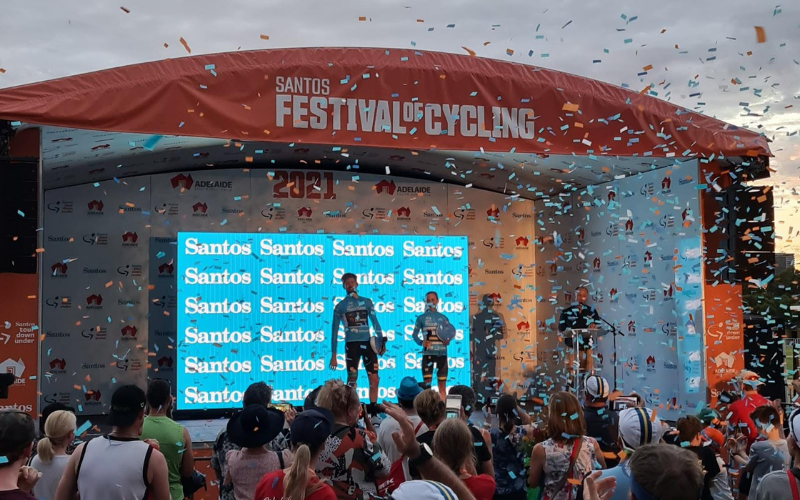 Congratulations to Sarah Gigante, Luke Durbridge, stage winners and all riders who took part, putting on quite the show for us as spectators, ensuring that the absence of the World Tour was almost forgotten!
Also, hats off to the entire Santos Tour Down Under organisation and Race Director Stuart O'Grady, who despite the challenges thrown for the many months leading up to the event, were still able to hold a truly memorable festival week that was seamlessly delivered.
Great to see our own Stuart O'Grady in action as his first official year at the event as Race Director. *Stay tuned via our social channels for an interview with Stuey chatting all things TDU Festival and his role as Race Director coming soon...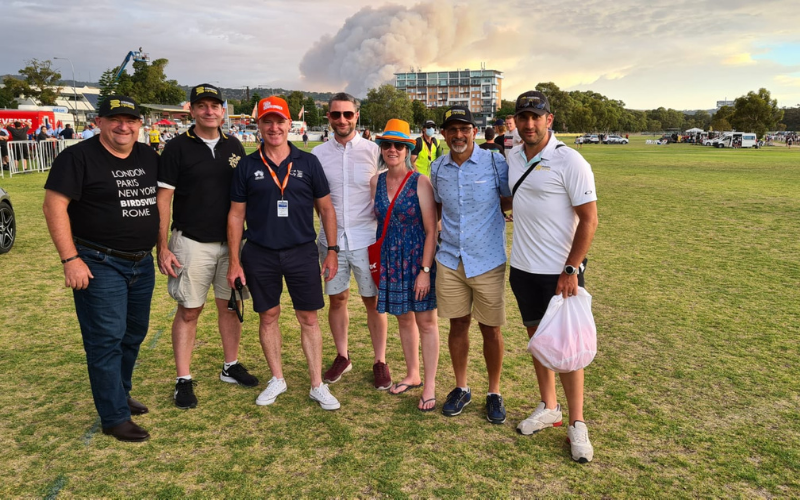 So, race talk aside, what did we get up to daily at Mummu Cycling?
We were lucky to be joined by eight excited, easy-going, FUN personalities on tour who made certain that every day at the festival was enjoyed to the max.
Throughout the trip, we enjoyed daily stunning, yet challenging rides through the infamous Adelaide hills, ensuring the perfect combination of hard work and good times. As an added bonus, the roads were a little quieter than usual years without the TDU race rush!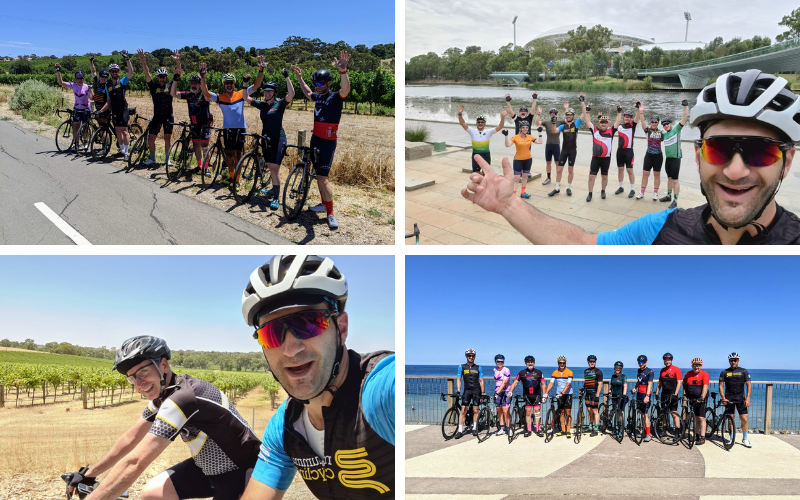 When not turning circles, we'd be found kicking back along the stage race route cheering our favourite riders on, wining and dining at great local restaurants, or relaxing at the Mummu Marquee over a delicious gourmet picnic spread by Everyday Gourmet, SA. Special thanks to Harvest Kitchen and Greenhill wines who made our experience all the more delicious and memorable!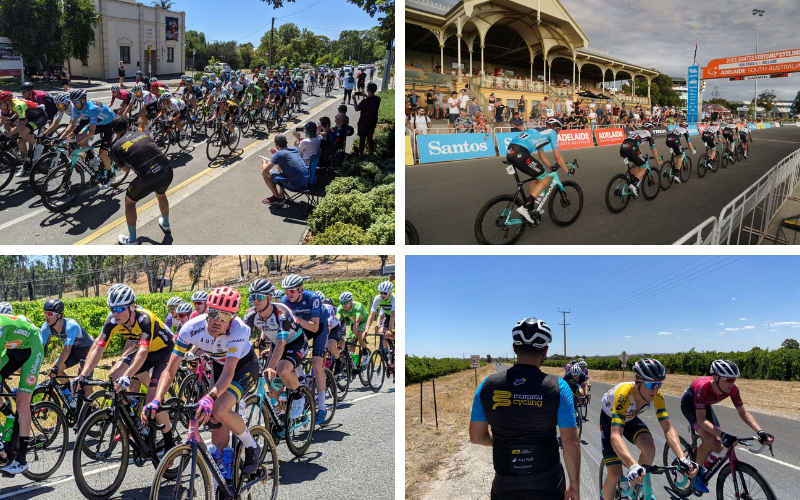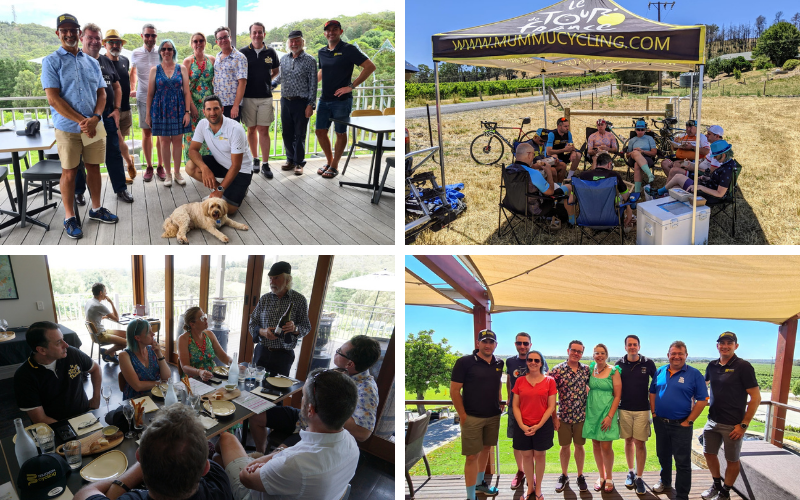 Check-out our complete Santos Festival of Cycling race gallery, here.
---
Interested in joining us at the Santos Tour Down Under in January 2022? As it returns to World Tour status, we're confident that it's going to be bigger than ever before! Secure your place on tour now (100% risk-free) and join us as we start counting down the days to the TDU22!