It's hard to believe that yet another Tour Down Under has been and gone. It was sad to say our goodbyes, but what a time we had! We've now arrived home exhausted, yet full of incredible memories and grateful for many new friendships made.
To refresh your memory, here's a run down of our TDU...
---
Our 8 day tour kicked off with an absolute bang as guests arrived in time for some serious crit action ahead of the always entertaining, Down Under Classic. To start, our riders set out on a cruisy beach ride to test out bikes and get the legs into gear for the big week ahead.
Led by local and lead ride guide for the week - Darren O'Grady, it was all about back roads, bike paths and banter as we got to know each other.
Following the ride, we were off to the Classic and a fiery start it was - and not just the weather! Attacks were dropped from the gun, but eventually concluded in a tight, drama filled sprint finish to see Aussie sprint sensation Caleb Ewan storm to the win.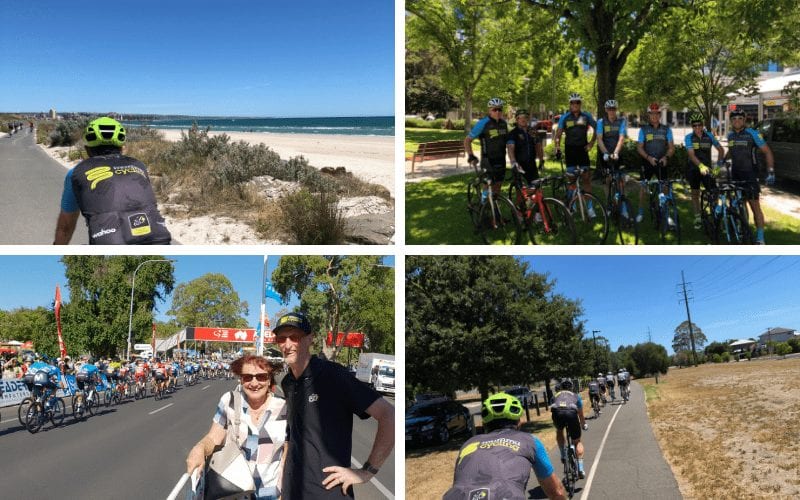 The following day was a rest day for the riders, ahead of the official Tour start. For us - the perfect opportunity to get some ride time in with the pro's. Thanks to Stuart O'Grady, we joined Team Sunweb on their 'recovery' spin out to Glenelg. Recovery for some?! Amazing to think how quick these guys go on their easy days…
On return, we had a quick turn around before setting off to McLaren Vale to the famous winery, D'Arenberg. Most famous for its cube-shaped building, abstract interior, panoramic views and outstanding selection of wines - we were in for a great time!
We started with a wine tasting in the 'cube', followed by a long lunch of beautifully presented, delicious dishes.
This was a fantastic way to really gel as a group, get to know each other and relax. As although a cycling experience, we also aim to deliver a holiday and include a touch of culture and additional fun along the way.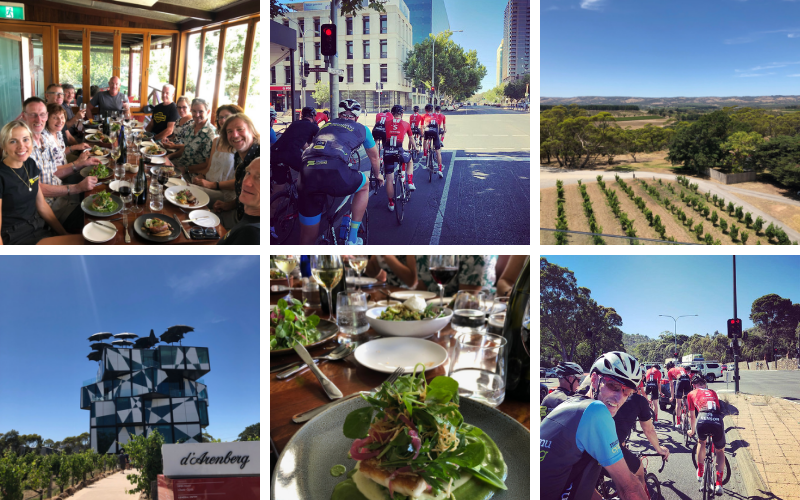 Day 3 - Race ON! Today, the Santos Tour Down Under games well and truly begun and what a cracking start it was! Scorching hot, but smiles all around as excited fans and packs of mini pelotons filled the streets in pursuit of the race.
Our riders ventured out via the stunning Gorge road towards the mid race circuit in Houghton. All was well and merry, until we hit the gruelling, short, yet far from sweet Torrens Hill. Following a solid battle to the top, we had an easy roll to our picnic set up for the stage on the circuit.
Spoilt for choice with a selection of cheese, crackers, fruit and filled rolls from Everyday Gourmet Platters, we were happily replenished by the time the race rolled through. It was then all about getting our cheer on and picking out favourite riders, anticipating between ourselves who would be the eventual stage victor. No surprise to see Italian speedster Elia Viviani sprint his way to the win and claim the tours first leaders jersey.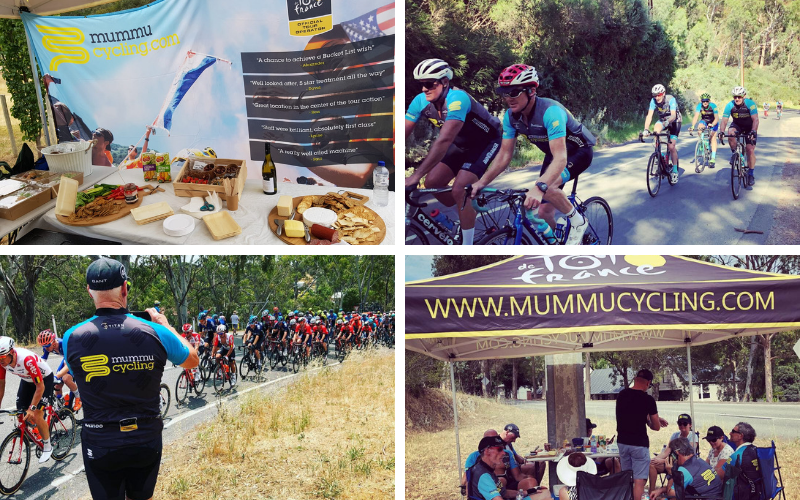 Day 4 was all about the infamous Checker Hill. The outrageously steep little climb is very well known in Tour Down Under history and not only for its brutality, but the incredible atmosphere it attracts.
We were game and set out along the official race route, ahead of the stage to set up camp and await the pro's. Firstly, it was all about tackling it ourselves! Painful, yes but incredibly elating atop, leaving us ready and excited for the race to roll through. Sure enough, the peloton danced up the climb, grimace free - putting our pain faces and struggles to shame, yet leaving us in awe of their strengths.
Our New Zealand Mummu Cycling contingent were thrilled to see kiwi Patrick Bevin conclude the stage on top!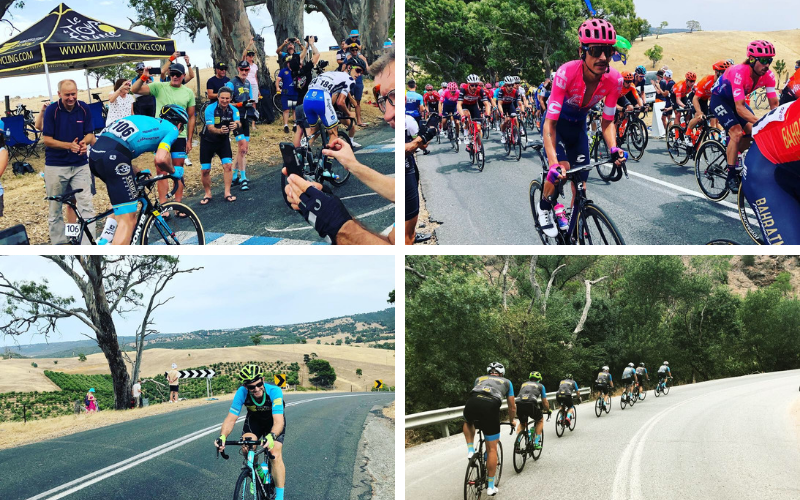 The following day was a busy one with another solid ride and day of stage viewing on the cards, a separate Corporate ride out to the stage with Piper Alderman (led by Matt Goss), as well as our 4 day tour guests arriving in to town to get amongst the action.
For our 8 day riders, we cruised out of town over the Adelaide-famous Norton Summit climb - providing a great opportunity for anyone who felt they needed it to have a nudge and test their climbing legs. Led by former professional cyclist, Nick Gates - let's just say he gave them a good run!
Following a bit of climbing, we made our way across to the race circuit for the day in Uraidla, that would be tackled 6.5 times. Once riding the lap ourselves, it was evident that today's stage would be tough and potentially a real game changer, with a number of harsh kickers and another scorching hot forecast on the horizon.
The Mummu marquee and another delicious picnic lunch awaited us, conveniently located within reach of the stage finish and metres from a big screen. So we kicked back in style and settled in for a big day of bike racing! Our predictions proved correct, as the race exploded with a few laps to go, as we sat watching on the edge of our seats and enthusiastically cheered them through on bell lap.
It was fantastic to see eventual victor Peter Sagan guts it out over the final climb and win in a gripping, close sprint lunge to the line!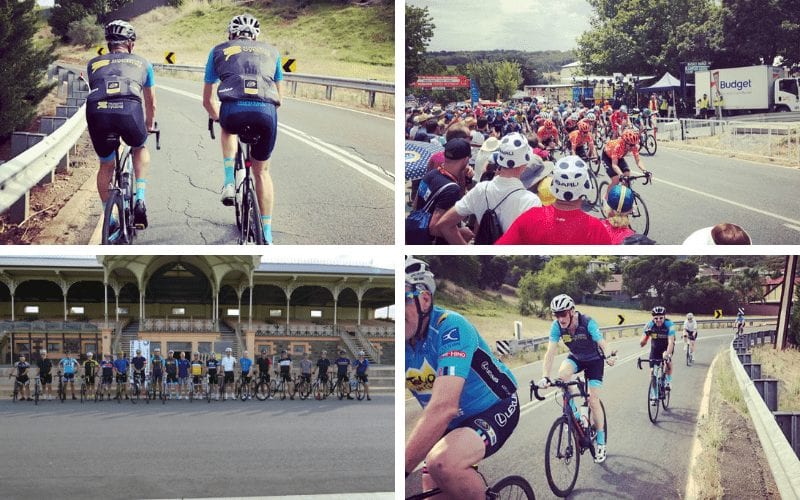 The day didn't end there, as that evening we welcomed our new guests with a cocktail function, hosted by Stuart O'Grady, alongside Matt Goss at the fabulous Velo Precinct and what a success it was! Plenty of laughs were had throughout the night as guests met and mingled, followed by a fantastic Q & A session with Stuart and Matt - discussing all things TDU, including; race happenings and tactics, followed by their own career highlights and stories.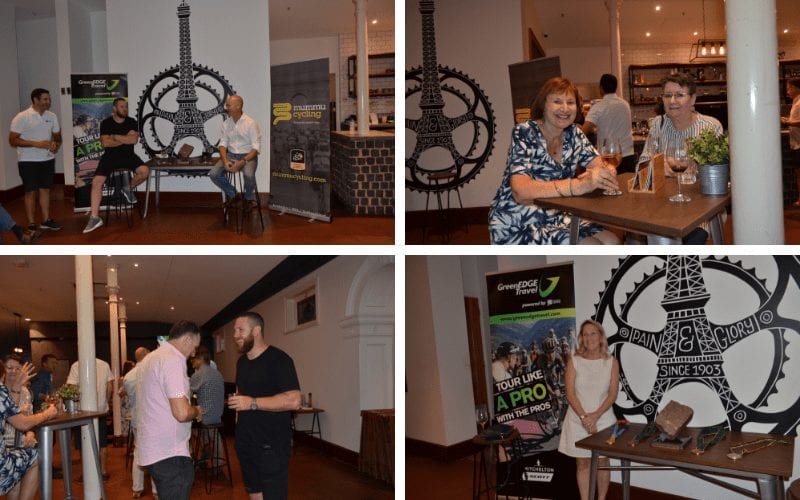 Day 6 was all action! Starting on a high with VIP access into the pre start riders area within the TDU race village. This went above and beyond expectations for our guests as they were able to meet, chat with and grab a few snaps to prove it with their favourite riders ahead of the day's stage. As an added bonus, we were the only group there and were led through by former professional (and team mate to many of the riders), Matt Goss - meaning the pro's were relaxed and happy to share a few words. Thank you Richie Porte, Peter Sagan, Daryl Impey, Mat Hayman, George Bennett and the Mitchelton-SCOTT crew for your time and valuable insight into what goes on behind the scenes at a World Tour bike race!
We left grinning from ear to ear and set for another big day ahead. First up, we hit the Stage start to send the riders off, before hitting the road with the Corkscrew our target for the day! For our riders, it was all up to start as we rolled out over the old freeway climb. Well warmed up and happy with our efforts atop, we enjoyed beautiful rollings road before reaching Corkscrew and (thankfully) descending the challenging hairpin lined climb through the ecstatic TDU crowds that excitedly awaited the stage ahead. We eventually made it to the Mummu marquee where we'd set up for another roadside picnic to enjoy the best of the action to come.
It was fantastic and thrilling to see the leaders blitz through at commendable speeds which resulted in another nail biting finish, seeing last year's Tour winner Daryl Impey come out on top and soar a few seconds closer to the lead, behind Paddy Bevin.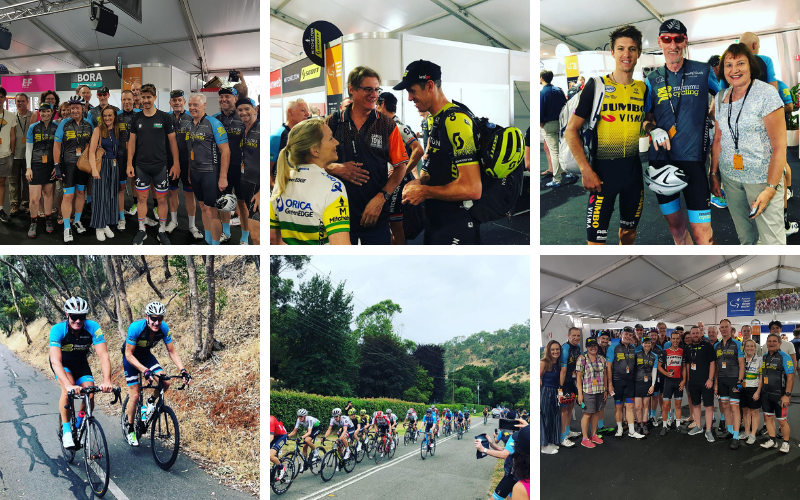 An incredible day on tour was topped off superbly with a memorable GreenEDGE Travel evening at the Hilton, hosted by Stuart O'Grady and joined by special guests from Mitchelton-SCOTT; Lucas Hamilton, Michael Hepburn and Alex Edmonson. As well as team Directeur Sportif Matt White and former GreenEDGE team mates, Matt Goss and Baden Cooke.
Over the course of the night, we enjoyed a delicious meal paired with South Australian wine, while hearing the inside race scoop and stories from within the peloton as told by the Mitchelton-SCOTT crew - all following their big win with Daryl Impey in Stage 4.
Following a fantastic chat with the team, Baden and Matt took the stage to go back a few years and share some great race memories, careers highlights and laughs along the way. Thank you all!
On Day 7, our riders were up and at em' and out the door before sunrise to tackle the 'Challenge Tour' sportive ride along the official TDU stage 5 route. They had a HUGE ride and even bigger grins on completion as they rolled through to the finish in Strathalbyn with a few more clicks in the legs - exhausted, yet satisfied.
Meanwhile, our non riders hit the start line in the beautiful beach suburb of Glenelg to watch the stage depart, before jetting across to the finish to enjoy some Spanish tapas over a few vinos and some stage viewing on TV while awaiting the eventual drama-filled finale.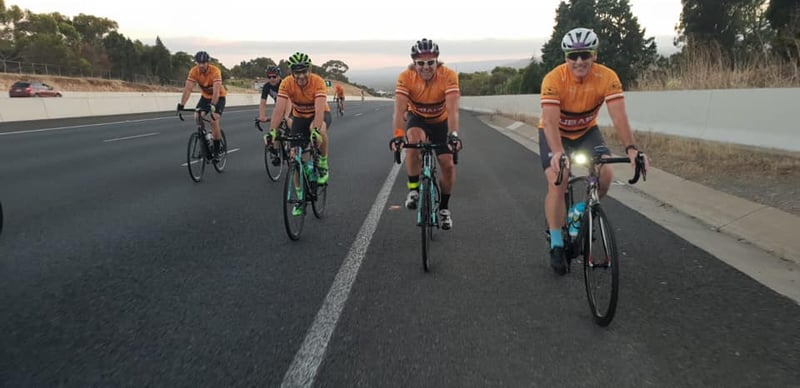 The trip ended on an absolute high for the final stage out at Willunga.
To begin, our riders enjoyed a gorgeous tap out to McLaren Vale and up the iconic Willunga Hill before joining the rest of the crew at the stunning Penny's Hill winery along the stage circuit route, setting us up in a prime race viewing location to see the riders pass by 5 times throughout the day.
For us, it was all about great wine, delicious food and electric bike racing as we went from seeing the peloton zip by to kicking back in our tent with race screenings - wine in hand, of course!
We were expecting a final showdown and the riders certainly delivered. Congratulations to the King of Willunga - Richie Porte for making it rain once more up the final climb and taking the stage win. And a huge well done to the now history making, dual Tour Down Under race winner, Daryl Impey for bringing home the overall title in incredible fashion, led by a very strong Mitchelton-SCOTT team.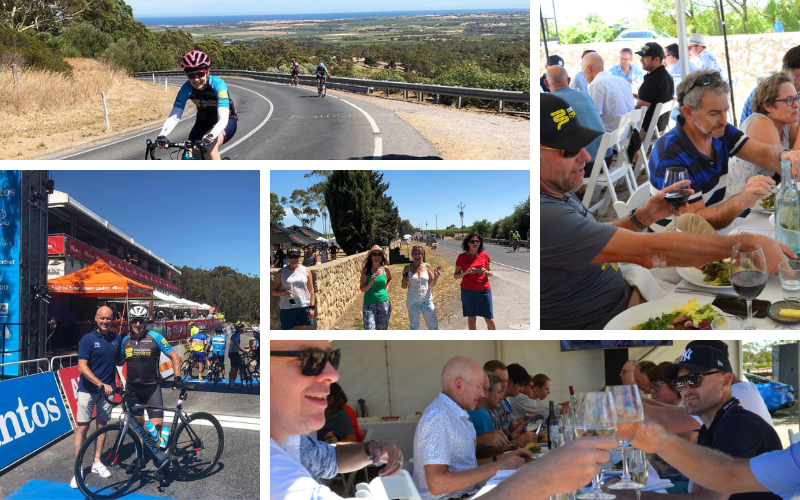 To top - what an absolute treat to see Mathew Hayman end his remarkable career on Cloud 9! Chapeau and as the boys said - Merci Hayman. We will miss his smiling face in the peloton, but very much look forward to seeing him in action on the other side of the fence.
All in all - what a fantastic 8 days on tour for us and all involved. Thank you to our incredible guests who arrived and left smiling, making our our jobs easy and enjoyable in delivering this experience. Secondly, thank you to our dedicated team of staff on tour and back in the office for ensuring all went to plan and above and beyond. And of course, to Stuart O'Grady, our GreenEDGE Travel tour host Matt Goss, riders and the Santos Tour Down Under organisation for once again putting on one hell of a race down under!
Interested in joining us at the Santos Tour Down Under? It's never too early to start planning! Register your interest, here.