Read what our amazing guests had to say about their Tour de France experiences with us last season...so many incredible memories! 😍
---
"There's a place for everyone in a Mummu tour -- riders of varying capabilities, spectators, and adventurists who want an extraordinary life experience.
We joined the Tour des Vins Mummu program within the 2019 Tour de France, my husband a cycling enthusiast and me, a seeker of unique/cool experiences (but definitely not a cyclist or in-shape human). Team Mummu accommodated our respective interests and capabilities and delivered the outcomes we each wanted. I gave cycling a shot and Mummu enabled me to ride to my capability limit and then kindly gave me a lift to catch up to the group ... as a result, I enjoyed the cycling on my own terms within the Mummu safety parameters and without feeling pressured to keep up with the "real" riders or relegated to the sidelines.
Marcel, Stuart, Liam, Cedric, and Emily are each, in their own right, exceptional people; and as a team, well, simply incredible. And while I did not meet Paul, who answered my endless questions on the administrative side, in person, I can attest he too delivered exceptional customer care and service. From our first e-mail inquiring about the Mummu TdF tour through our farewell after the Stage 7 depart in Belfort, we knew we were in the hands of professionals committed to their mission, capable in their planning, and thorough in their execution.
Without question, each member of the Mummu team demonstrated attention to detail, listening and responding to group and individuals' queries/dream experience requests, ensured safety precautions were communicated and followed, and delivered an incredible experience we remain "wowed" we got to live. Team Mummu puts the customer at the center of its thinking/planning/doing. I'm a tough customer with a high bar when it comes to "return on investment" of time and money. Mummu Cycling's investment in producing an extraordinary project was evident and without question, they delivered a return on our investment.
All the better that we had a fantastic group of people to share the Tour des Vins cycling, TdF excitement & hospitality, and beautiful Alsace region with for five days. Book your trip now! You will be disappointed only if you wait too long and miss out on the experience you've been wanting to live.
Thanks again Team Mummu and the 2019 Tour des Vins crew!!"
JC Walsh, Tour des Vins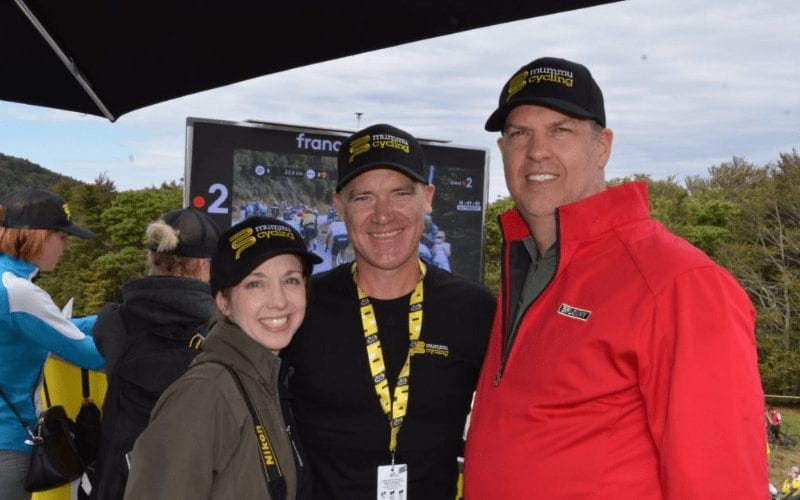 "A 35-yr. bucket list...truly, a dream come true for us - all thanks to you Mummu Cycling! What an unbelievable experience to be a part of the Grand Opening in Brussels. To riding the first 3 stages of the Tour...starting/riding the Tour from the actual start line (are you kidding me!!), to meeting Paul and Christian, having dinner with Jens, hanging in the shadow of Stuart as he chats with the many pro bikers, unbelievable Belgium meals, and being catered to for our ever last biking need - I cannot say enough about this once in a lifetime experience! We are still pinching ourselves!! Our expectations were exceeded in every way. Never dreamed we'd experience the Tour de France like we did, with you Mummu Cycling. Thank you!!"
Julie Worthington, Grand Depart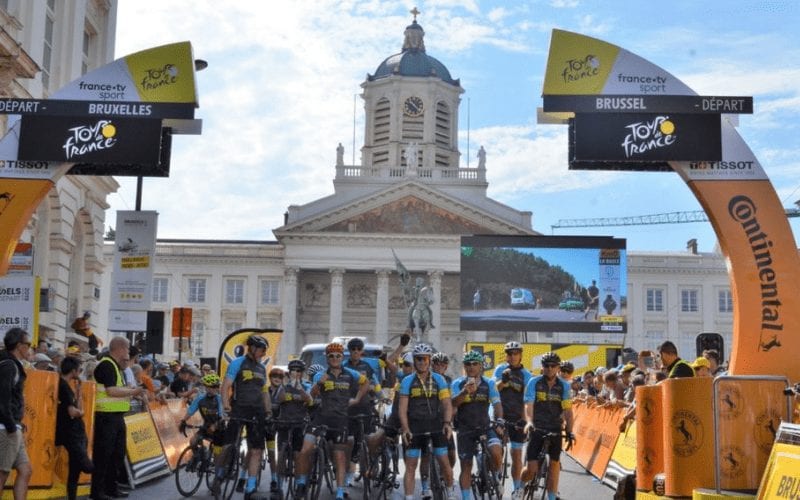 "I did the Tour de Vins with my son and the experience was absolutely amazing. The riding was fantastic, the hosts including Stuart O'Grady, Marcel, Liam, Cedric and Emily were unbelievable and the whole experience was unforgettable. We had enough access to the Tour and the riders that we felt almost like we were doing the Tour De France and not just spectators. Mummu took great care to mold the experience to the interests and abilities of the guests who were there that week, and they couldn't have done a better job."
Scott Jensen, Tour des Vins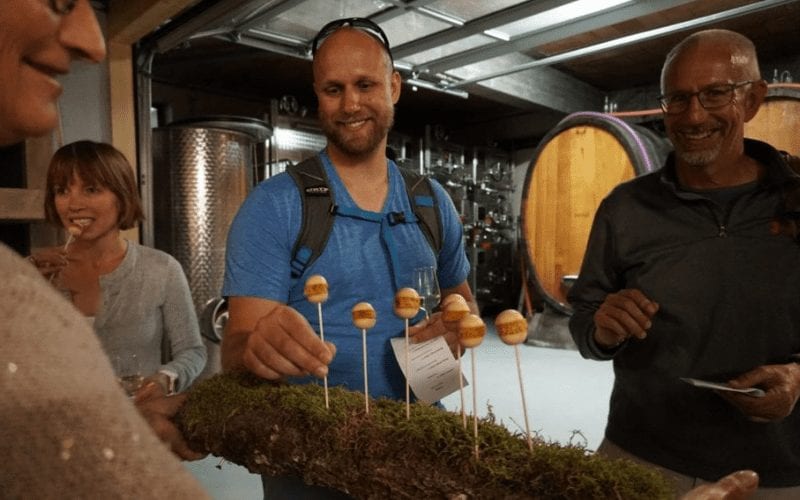 "We recently joined Mummu Cycling for the "Pyrenees Pro Experience" with Stuart O'Grady as our host. This week in France with them was FANtastic. We got to experience the excitement of the TDF like you could not believe. Exclusive access to Start and Finish lines including a couple of really tough mountain stages, hospitality second to none, friendly team support crew and of course all the knowledge and expertise shared by one of Australia's legendary sports stars. I highly recommend this trip if you are looking to experience a taste of the Tour with all the trimmings but not being too exhausted at the end of the day to still enjoy a little of what France has to offer after dark."
Scott Petrie, Pyrenees Pro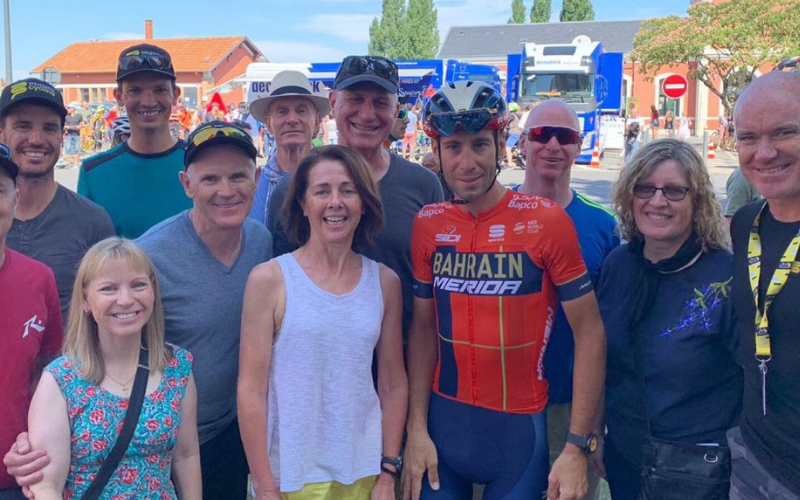 "Our Tour Des Vins with Mummu was absolutely fabulous. Tim LOVED the riding! It was an amazing opportunity for him to ride the course on the morning of the stages, just before the professionals rode through. The experience of the Tour De France was wonderful for both riders and spectators. What a thrill to be up close to such a sporting event and to the athletes participating. No other world class sporting event offers that kind of access and with the involvement of Stuart O'Grady, Mummu provided exceptional opportunity to meet and see those athletes throughout. Beginning with our visit to Caveau Humbrecht and ending with our final dinner at Les Jardins de Sophie, we were impressed with the quality of food, wine and service offered. We haven't yet managed to find croissants to rival those we had for breakfast at the hotel. We had an interesting and fun mix of people on the tour who helped to make it a highlight of our holiday. Thank you so much to all the Mummu gang for all the hard work you put into pulling it all together for us. Tim wants to know when we can do it again!"
Helen Longwill, Tour des Vins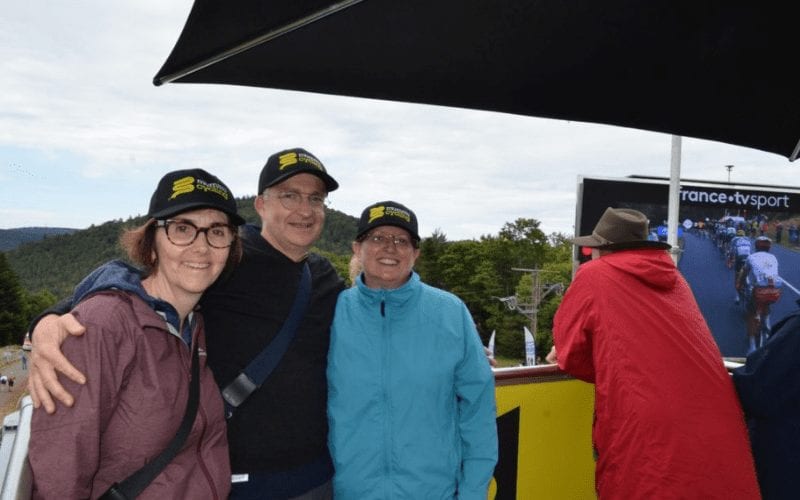 "Had a great experience on the Mummu Pyrenees Ride Experience. Fantastic riding; we rode Hautacam, Soulor, Tourmalet and Luz-Ardiden among others. Simply awesome routes and scenery, great climbs on tough enough but not ridiculous cols. Nick Gates and Siska did a great job of leading, supporting and looking after the group and our tour was well integrated into TDF when Le tour passed through. Will do it again sometime!"
Mike Sumner, Pyrenees Ride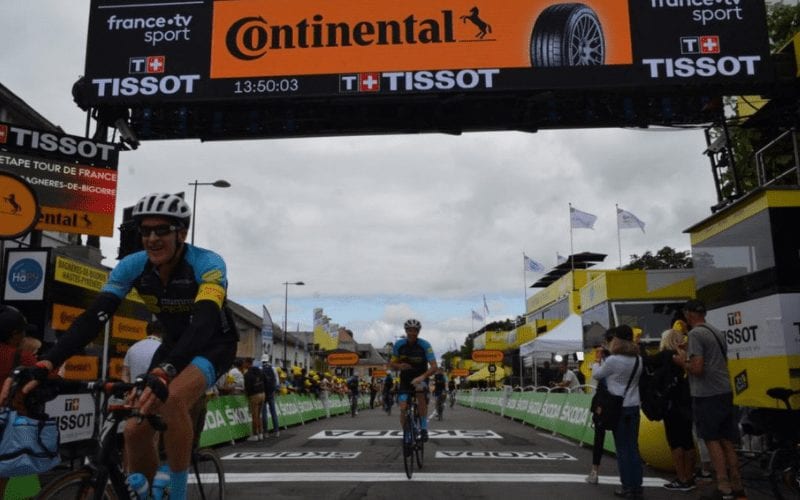 "I came into the "Tour de Vin's" unsure what to expect and also anxious of the cycling challenger that lay ahead. I left thinking "when can I do this again?"
This was a ball from start to finish, great organization from Marcel and the team (and that is not easy in the belly of the Le Tour Machine), with the cycling experience of riding sections of the course A-M-A-Z-I-N-G, especially the challenge of the stage 6 climb finish. Not to mention the food and accommodation, the new friends I met along the way, and the up close access to the stars of the tour, the cyclists and their teams.
Would not hesitate to do this again.
Bravo Mummu!"
Adrian Brian Roch, Tour des Vins
"Great time - well organised. Even turned on a Aussie winner for us. Thanks Mummu!!"
Paul McGowan, Paris Weekender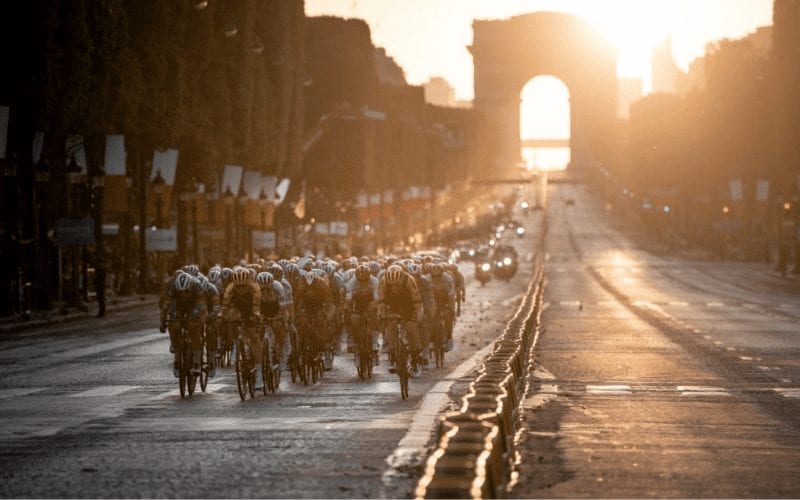 "Thank you to Mummu Cycling for an experience of a lifetime. My wife and I were on the Tour Des Vins experience on the TDF 2019. It was absolutely incredible!!!! The rides, people, staff, food, wine and of course the perfect locations to view the great race were amazing and it exceeded all expectations. Mummu Cycling really got us inside the bubble. A very big and special thank you to Stuart O Grady, Marcel Berger, Cedric, Liam, Emily and all the Team for making our experience so memorable. We have so many special memories and have made some life long cycling friendships.I would have no hesitations in recommending Mummu Cycling Tours to anyone.
It's 5 Stars from us.
Thanks again Mummu Cycling."
Johnny and Samantha Silla, Tour des Vins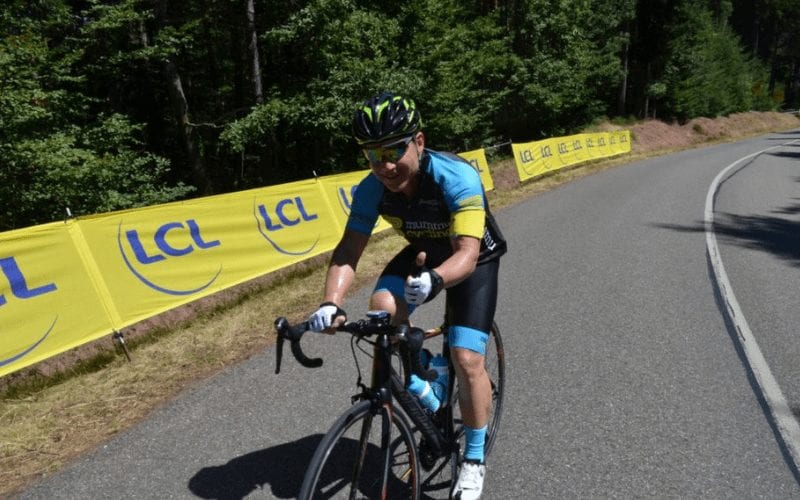 "One day experience to "La Planche des belles filles". It was great : hospitality, finish line, podium and some funny moments with the group of riders and the staff. I hope to do it again!"
Brice Geisler, Pyrenees one day experience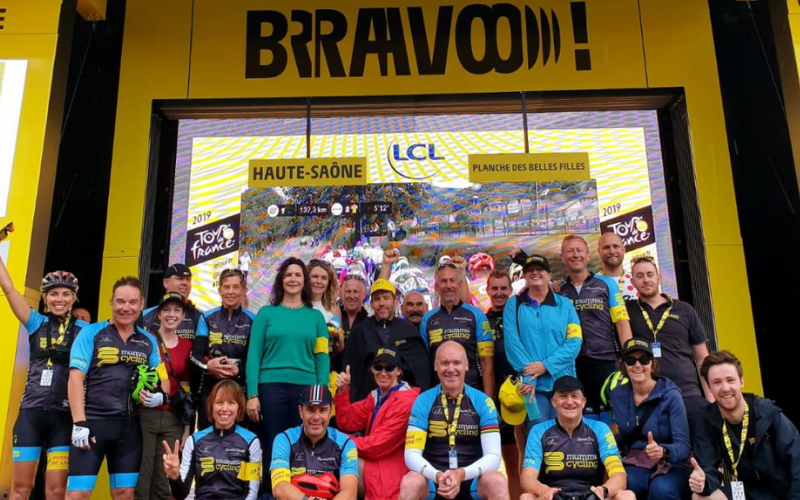 "There simply aren't enough stars. Mummu is in a league of its own. I think that this was one of first times that Stuart, Marcel and the crew did the Tour de Vins as part of their broader program of tours and it was genuinely (putting aside childbirth and weddings etc) the best 6 days I have spent. Stuart O'Grady is part of the fabric of the Tour de France and treated accordingly. We all had the benefit of the esteem with which the international cycling community holds Stuart and we had access to former riders, the current peloton and behind the scenes areas that no-one could or should have expected. I have since been feverishly telling cycling friends to cancel their planned trips with other providers and sign up with Mummu instead. To Stuart, Marcel, Liam, Cedric and Emily my profound thanks. I am saving for my next Tour. (For anyone reading this who is considering another tour group ask them whether they can organise a chat with Peter Sagan)."
Tim Longwill, Tour des Vins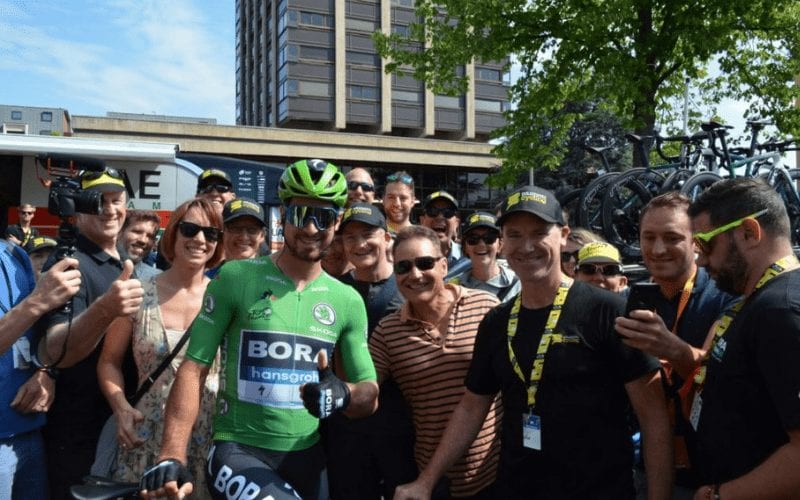 "Great organisation and an unforgettable event. Met lovely people and had a fantastic time."
Amir Ghahremani, Paris Weekender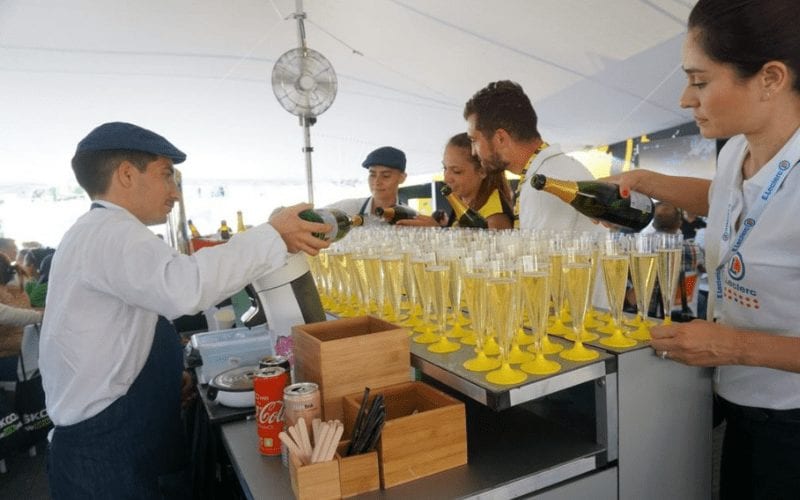 "With next year's Tour de France route set to be revealed mid October, we'll then be starting our own race to get our 2020 string of tours live! From the Grand Depart in Nice, through to the traditional final showdown in Paris." 🥂 🇫🇷
Interested in joining us at the Tour de France? View our complete range of experiences, here.