A 35-yr. Dream…by Bob and Julie Worthington, USA - Grand

Départ
"The morale of this story - don't wait for tomorrow, what you can do today."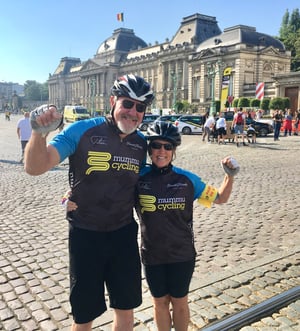 As we sit and watch Day 1 of the 2020 Tour de France - 700,000
masks, 2 tons of hand sanitizer…and Mummu Cyling nowhere to be found, we cannot help but to reflect on how grateful we are that we went after one of the biggest 35-yr. "bucket list" items of our lives - attending the Tour de France in person. Last year, we lined up on the start line of the TDF with Stuart O'Grady and the rest of "Team Mummu"!
With tears, we share a living testimony
- dreams really do come true!
After our arrival to our hotel in Belgium, we were to meet up with our tour group in the lobby. On the elevator, this friendly (humble) guy joins us and says, "Hi, I'm Stu." We had no idea we were riding down the elevator with 'the' Stuart O'Grady until he formally introduced himself in the lobby. Stuart immediately walked up to Phil Liggett. Yes, 'the' Phil Liggett! Our jaws dropped…Phil and Stuart standing there chatting with our group about their predictions for this years' tour. After spending an evening on the Belgium square watching Team Introductions, we headed to our catered Belgian dinner. As if meeting Stuart and Phil were not enough…Jens Voigt walks in to join our group for dinner. You mean the "Shut up Legs" Jens Voigt??! Yup, that Jens. We forgot, for a moment, we were there to eat!! Those 3 kept us entertained all evening long.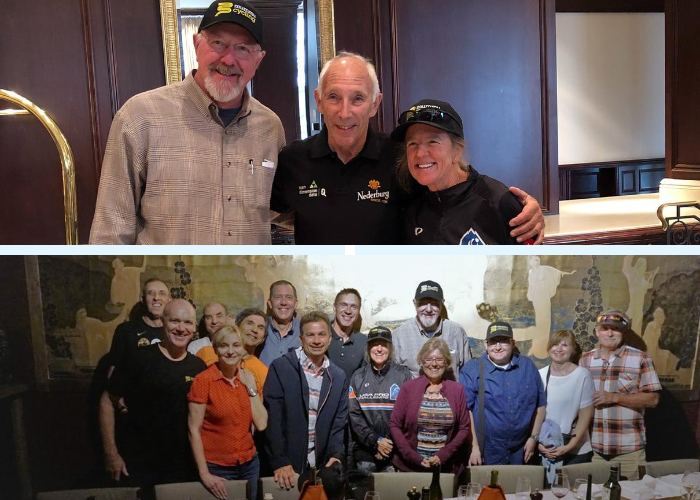 The next morning we met up with our group outside of our hotel to ride our bikes down to the start of the Tour. There were a few others on bikes too, and one of those just happened to be Christian Vande Velde. Just another casual chat with our group on this years' Tour predictions!
The VIP treatment Mummu Cycling provides is truly in a class of its' own. Day 1 of the 2019 Tour de France, our group rides off from the start line, 3 hours before the actual Tour begins. We rode the first 30 miles of the Tour de France!! Our group, with Stuart leading the way, rode the beginning of the first stage of the TDF (just needed to repeat again)! One of the greatest thrills of our lives!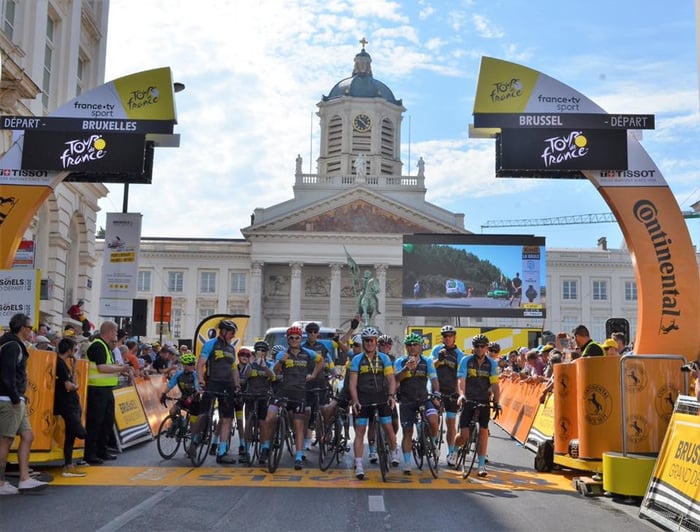 *An important side note here - we have been watching the Tour de France (religiously!) for 35+ years. As a couple, we have a mutual love for cycling, have both raced ourselves, and committed to one day going in person, to the TDF! You can only imagine the emotions we felt, from beginning to end.
Stage 2 was the individual Time Trial. Our Mummu Cycling Team road the actual Time Trial, before the Tour began that morning. Just a leisurely ride on "the course" before the big boys arrived. We then hung out with all the Teams as they were warming up - providing insight to their entire Teams operations. Pretty spectacular to watch the pros in their zone, preparing for the day's stage.
We spent the morning before Stage 3 with all the International press. Definitely felt like VIP's. All the food, drinks, and inside scoop of the Tour de France that we could have ever imagined. And this was the morning that Stuart introduced our group to the pro-cyclist of our choice. Peter Sagan was my guy and to add to that we met Richie Porte, Andrew Schleck, and so many more. Every time we turned around Stuart was chatting with another legend and introduce us, as if we were family.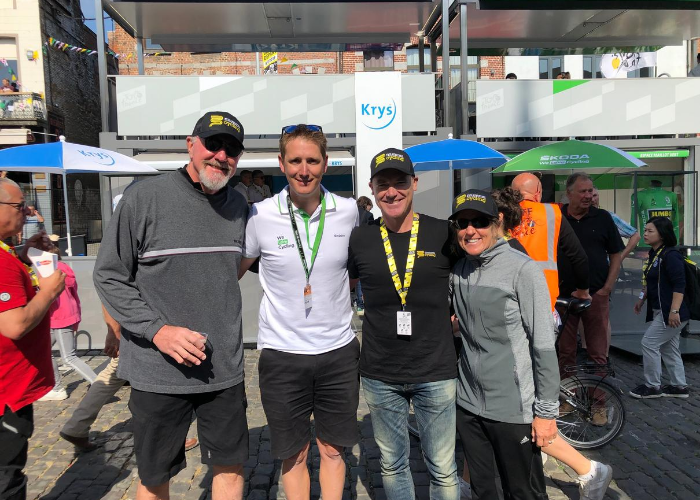 From the hotel, meals, bikes, Mummu swag, transportation and Sag support, to the up close and personal interaction with every aspect of the actual Tour de France - I cannot say enough about this experience for us AND for Mummu Cycling - a first class organization! Our expectations were beyond exceeded!!
The moral of this story - don't wait for tomorrow, what you can do today.
As we wait out this word-wide pandemic, we are hoping this years Tour will survive COVID-19. With the future of our world in such limbo, we are grateful, beyond words, for our experience at the 2019 TDF. Thank you Mummu Cycling, for making our dreams come true!
---
Interested in making lifelong Tour de France memories like this? Head here to secure your place on your preferred Mummu Cycling 2021 Tour de France experience now. With the majority of our 2020 bookings transferring across to next season's tour due to Covid-19 restrictions, we highly recommend pre-registering by placing a simple risk-free booking deposit. Hope to see you there!